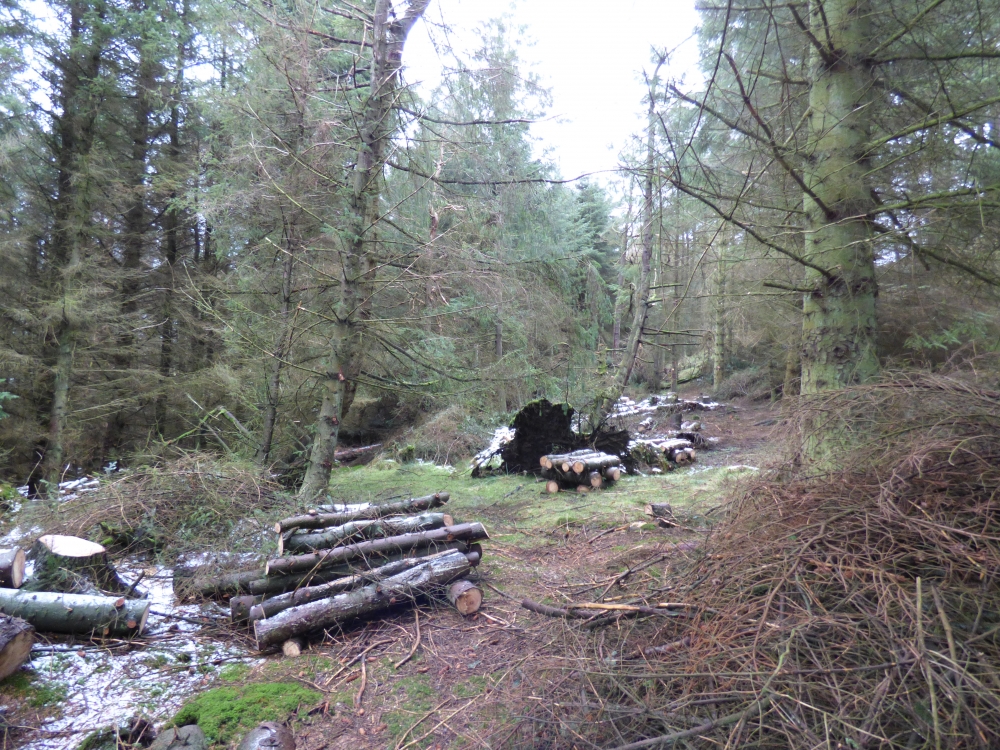 Tongue Burn Wood takes its name from the fast flowing stream that comes down from the hills and feeds into the nearby Holl reservoir.
This is a wonderfully diverse piece of woodland worthy of an extended visit as it offers peaceful seclusion, a stream and a wide variety of habitats, but is a very convenient distance from Edinburgh, Perth and Dundee. The internal track has been extensively maintained this summer with significant investment, affording very good access to the wood, for all vehicles, for the long-term future.
There are three distinct sections to Tongue Burn Wood; the first is a belt of young but strong conifer that are now ready for thinning; the results of which will provide a sustainable supply of valuable domestic winter fuel for years to come. Thoughtful felling rather than the commercial practice of clear fell, will bring light down to the woodland floor, encourage biodiversity and improve the habitat for wild life in one easy stroke. There are already a number of small natural clearings that could be expanded upon and some existing stacks of timber beginning the important process of drying and seasoning.
The second section is behind the ride stop and is a convenient and extremely useful flat plateau with many fine mature Scots pine. As it is easily accessible along the track, this discrete area would be perfect for the siting of a woodland shelter, to use for timber stacking or for camping if needs be.
Moving further into the wood and dropping down from this plateau, there is a section of wilder looking woodland populated by fine examples of mature larch, Scots pine, spruce and beech. At the foot of this banking is Tongue Burn, a good source of fresh water for any woodland camping expeditions as well as providing the soundscape of running water; perfect ambience to a sunset. Well drained woodland such as this, but with a running a stream, is very hard to find and is an especially exciting place for young and old to experience adventure in the environment.
Throughout the wood roe deer are common and the odd fox is a visitor too, while up in the skies buzzards wheel and keep guard overhead; flitting through the tree canopy many bird species can be seen and heard including finches and tits.
Surrounding Area:
The surrounding larger woodland is called Bridle Bank and Tongue Burn Wood enjoys views out of here to the north, across to the distant Lomond Hills, or the 'Paps of Fife' as they are commonly known: this hilly area will entertain the mountain biker and walker alike. The surrounding area east of Loch Leven, is easily within reach, via the M90, of Edinburgh to the south and Perth and Dundee to the north. The Lomond Hills have a rich and varied history: from the Iron Age are the remains of several hill forts which can be found around the summits of both East and West Lomond, as well as at Maiden Castle, a grassy knoll that lies between the two.
Bridle Bank sits next to Holl reservoir, one of several in the area and it is from here one can take an alternative route up Bishop Hill. The route starts from the car park at Holl Reservoir and winds its way up through farmland and forestry plantings to emerge on the grassy open hilltop. This is a perfect place for a leisurely picnic while enjoying the wonderful views of Loch Leven with its islands and castle far below. Holl Meadow is one of Fife's finest; more than 100 kinds of plant grow in the grassland beside the reservoir and it is just a short walk from Bridle Bank.
The purchasers of the woodland will be asked to enter into a covenant to ensure the quiet and peaceful enjoyment of adjoining woodlands and meadows.
There is a growing interest in hut, bothy and temporary shelter building, especially in Scotland; for those interested in erecting a hut or shelter, here is some interesting and very helpful guidance from Reforesting Scotland's Thousand Hut Campaign. Your Local Planning Authority should also be consulted.