SOLD: Mast Wood
£75,000
Freehold
Little London, Hurstbourne Tarrant, Hampshire
almost 6 acres
Autumn colour

A bench in a clearing

Mast Wood parking at the entrance

A pathway into the wood

An old track into the wood

Holly berries

Adjacent fields to the south

The access track

Interesting ground feature
Description
From the entrance looking south into the woodland the ground falls very gently giving elevated views across open farmland to the south. The mature beech trees create a stunning variety of colours throughout the changing seasons.
The purchasers of the woodland will be asked to enter into a covenant to ensure the quiet and peaceful enjoyment of adjoining woodlands and meadows.
Trees
The mighty beech is traditionally associated with abundance, which reflects the bountiful supply of nuts the trees produce. The nuts, known as mast, are enjoyed by a thriving deer population and in the past pigs were let loose to feed on them under pannage rights, which allowed commoners access to woodlands. Dormice are also partial to mast and their breeding success increases when the nuts are plentiful.
Beech nuts have also been a valuable food source for people during periods of hardship. The nuts which are high in fat and protein can be ground and mixed into flour to make breads or roasted and used in soups. They can, however, only be eaten raw in small quantities because they contain a toxin, which causes gastric illness. The high fat content made the seeds a valuable source of oil, which was traditionally used for both cooking and lighting.
In past times when the value of nature was more appreciated, the young leaves were another valuable food source; eaten raw as an early source of fresh greens, or more extravagantly used to make a gin liqueur. Even in winter the leaf buds were harvested, kept on the twigs and used as toothpicks.
Such is the importance of this natural environment that it carries a special local authority Tree Preservation Order designation aimed at ensuring its continued existence as an important area of woodland. This will also encourage good woodland management practice as the local Forestry Commission representative and Local Authority Tree Officer are on hand to advise on how best to achieve this.
Wildlife
Wildlife is plentiful, fallow,roe and muntjac deer are regular visitors. Foxes, badgers and many more smaller mammals can be found here.
Features
The ground here is predominantly well drained and firm and allows for good vehicular access to clearings throughout the wood in most conditions. This greatly facilitates setting up camp and retrieving firewood.
Access, tracks and footpaths
The woodland is bordered in part by a good access track and has a secluded feel surrounded by miles of rich farmland. The absence of interference in this peaceful wood has encouraged retiring wildlife species and roe deer are common sightings here.
Local area and history
The surrounding area is characterised by its rural seclusion and extensive agriculture. Nearby the historic town of Andover is a useful staging post for woodland supplies and there is convenient access here to the A303. A short way to the north lies Newbury and the motorway network at junction 13 of the M4
Wood maps
Wood map
Boundaries
Indicative orange boundary markings run through the wood to the north and east. The southern boundary is to open fields and to the west is the access track.
Find this wood
This wood is now sold, please do not visit the wood without the permission of the owner.
Location
OS Landranger: OS No. 185
Grid ref: SU 376 503
Nearest post code: SP11 6JQ
GPS coordinates: 51.2515, -1.46146
Location map
Directions
From the A303 leave at the Andover exit signed for the A343 and head north to Hurstbourne Tarrant and Newbury. A mile or so after passing through the village of Enham Alamein there is a turning on your right to Little London. If you are approaching from the north along the A343 then this turning is on your left about a mile or so after passing through the village of Hurstbourne Tarrant.
Continue down this country lane for about a mile until you reach Little London and then turn left into the village on a right hand bend. The road will then lead you through Little London, between the houses and then along a lane with woodland either side. After 500 metres you will reach the entrance to the woods on your left. The gate here is kept locked but you can stop here and continue on foot straight along the woodland track. Mast Wood is set deep within this larger area of woodland and you will need to allow plenty of time for your visit to get there.
Vehicular access rights will be given to the new owner.
Continue straight ahead along the track for 600 metres where, at the second crossroads of woodland tracks turn left and after 150 metres you will come across the entrance to Mast Wood on your left.
Sat Nav / GPS note: The post code SP11 6JQ is for the point shown on the location map by the red dot.
How we support our buyers
Please note this wood is owned by woodlands.co.uk.
Our regional managers are often out working in our woodlands, so if you email an offer and want to be sure it has been received, please phone our manager on their mobile phone. The first offer at the stated price which is accepted, whether by phone or email, has priority.
Please take care when viewing as the great outdoors can contain unexpected hazards and woodlands are no exception. You should exercise common sense and caution, such as wearing appropriate footwear and avoiding visiting during high winds.
These particulars are for guidance only and, though believed to be correct, do not form part of any contract. Woodland Investment Management Ltd hereby give notice under section 21 of the Estate Agents Act 1979 of their interest in the land being sold.
Stunning colours throughout the seasons from towering beech and light from open farmland to the south make for an uplifting woodland retreat.
Managed by Daniel Sharp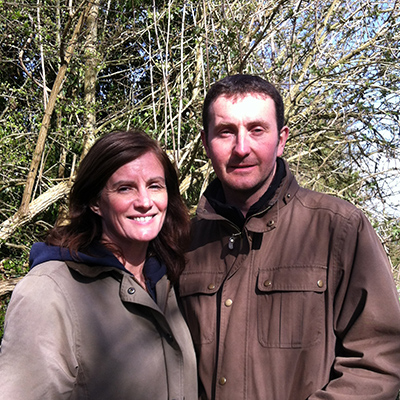 Telephone: 07780 900192
Email: daniel@woodlands.co.uk