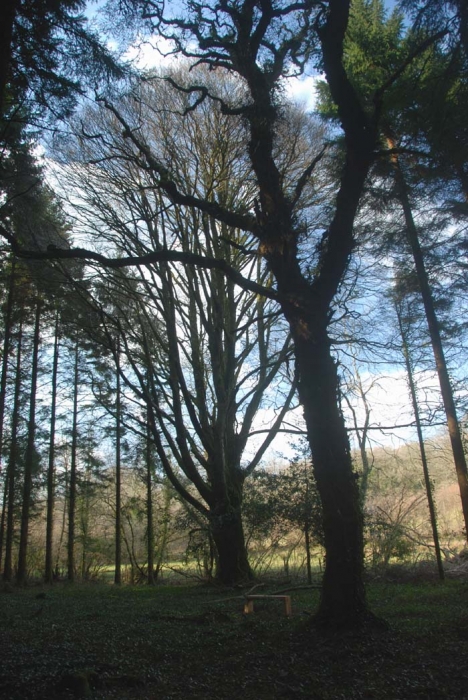 Dowr is the Cornish word for river and the River Inny which runs along the northern boundary is just one of the stand-out features of this idyllic woodland.
From the broad, well-made access track which runs the length of the southern boundary, the entrance to Dowr Wood leads off into the woodland. This track winds its way right through to the riverside. Other, less distinct, tracks criss-cross the woodland. These are either man-made, dating back to earlier timber extraction, or created by the regular comings and goings of the four-legged visitors which frequent the area: these are mainly deer, rabbits and foxes, with the occasional badger too.
The river contains salmon and sea trout and attracts many other creatures such as otters, kingfishers, herons and woodcock.
About 30 yards into the woodland and running roughly parallel to the southern boundary track is a mill leat. Although mostly dry now, this leat once drove the waterwheel at Trelaske Mill which is about a mile and a half to the east.
Dowr Wood is part of a larger area of woodland known as Trelaske Wood. The whole area was at one time part of the Trelaske Manor estate. Being surrounded by other areas of private woodland and with open countryside on the far bank of the river, this is a secluded and tranquil spot where, apart from the variety of wildlife described above, there is nothing to disturb your enjoyment of this special place.
The woodland comprises mostly mature conifers, these being Norway Spruce and Douglas Fir. In among the conifers there are fine examples of veteran broadleaved trees, principally oaks. Other broadleaved species are dotted along the river bank.
About half-way along the riverbank and set just a little way back is a natural clearing between four large broadleaved trees. The ground here is covered with bluebells. What better place could there be to sit on the bench and watch the sparkling light reflecting off the clear, fast-flowing river?
Particulars and plans were prepared by our local manager, Dick White
The purchasers of the woodland will be asked to enter into a covenant to ensure the quiet and peaceful enjoyment of adjoining woodlands and meadows.