Shilstone Wood, Devon - About 5 ⅓ acres, £45,000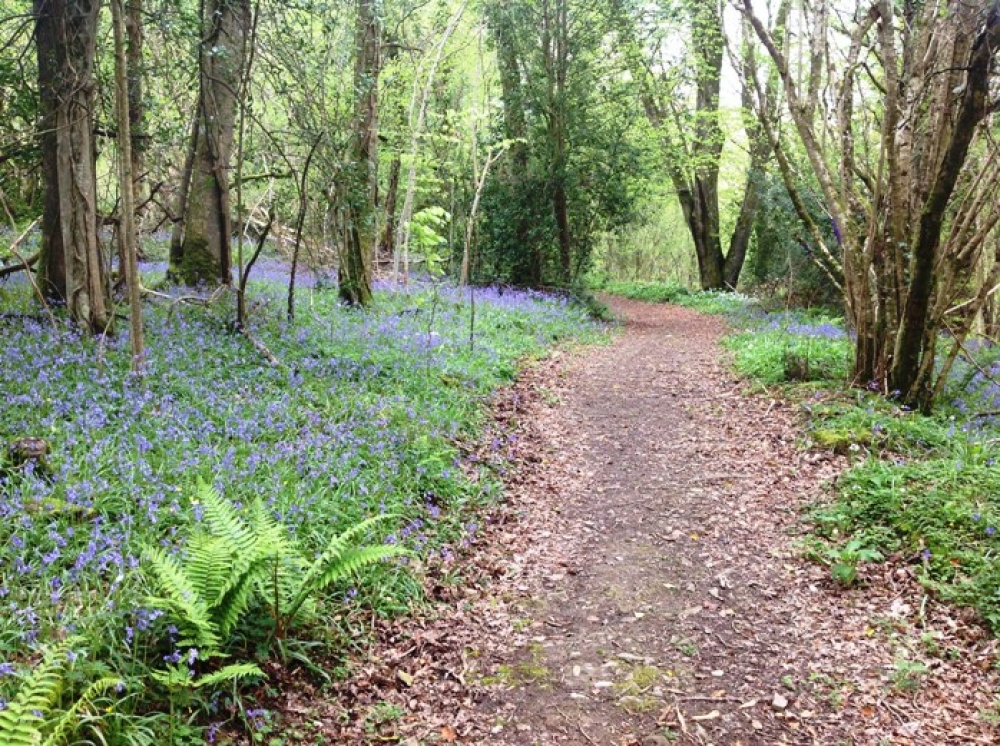 For centuries Shilstone Wood has nestled in the peaceful Mole valley in the rural heartland of Devon. Shilstone Wood is listed as Ancient semi-natural woodland on the Government's Magic database. This means that this woodland has existed since at least 1600 AD. The woodland shows many signs of this longevity with flower species that take many years to spread such as bluebells and dog's mercury.
Shilstone Wood is a real gem, with two distinct areas. The southern part of the woodland which is set either side of an access track has well spaced, large, old oak trees mixed with other fine examples of broadleaved trees. Here there is an abundance of hazel interspersed beneath the towering oak trees. Hazel trees are an excellent food source for both the woodland owner and wildlife, such as the nuthatch and the wood mouse. These trees can also be coppiced to give a sustainable crop of firewood or useful straight poles.
The northern section by the main entrance is mostly mature conifer, contrasting greatly from the southern section, this gives a wide variety of habitat that proves very attractive to the local wildlife. Both red and roe deer are present along with a wide variety of bird species.
A small stream runs down to the east of the woodland giving a relaxing and picturesque focal point, please take some time to sit on the bench here and take in the atmosphere. Another stream meanders in and out of the northern end of the woodland providing a source of water for those who wish to camp. The nearby river Mole provides excellent fishing opportunities for trout and salmon.
The name Shilstone is found in many historic records as a Devon surname. It is Anglo-Saxon in origin meaning 'stone shelf' - referring to the flat stone found atop of prehistoric megalithic structures.
Local facilities can be found in the nearby village of Chittlehamholt, an easy and pleasant walk from the woodland. There is a community shop selling local produce and a village pub called The Exeter Inn. Within a short journey is the High Bullen Hotel - a luxurious place to stay with golf, tennis and day licences for fishing. If you fancy a treat when visiting your woodland, perhaps as an alternative to camping, you could stay at the quaint Mole Cottage which is just a 10-minute walk away.
The King's Nympton train station is a few miles from the woodland. The station is part of the Tarka line - famous for being one of the most beautiful train journeys in the country. The rail line links directly to Exeter.
Shilstone Wood lies about 8 miles south of Barnstaple - the gateway to explore the rugged coast of north Devon with its many beautiful beaches such as Westward Ho! and the popular surfing beaches of Croyde and Woolacombe.
Particulars and plans were prepared by our local manager, Stuart Brooking.
The purchasers of the woodland will be asked to enter into a covenant to ensure the quiet and peaceful enjoyment of adjoining woodlands and meadows.
Price: £45,000 Freehold
Location: Chittlehamholt, Near South Molton, Devon
Size: About 5 ⅓ acres for sale
Boundaries:
All boundaries are indicated with green markings on posts and trees.
Local manager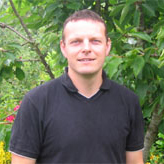 Stuart Brooking
07801 789215 or 01392 436229
stuart@woodlands.co.uk

Read more about Stuart.
How to find this woodland
You are welcome to visit this wood by yourself, but please ensure that you have a copy of these sales details with you - many of our woodlands do not have mobile phone reception or internet access so we recommend either printing the details or downloading them to your phone/tablet/laptop.
Do remember to also check that it is still available for sale. If you have seen the woodland and wish to be accompanied on a second more detailed visit please contact our local manager.
Location
OS Landranger: OS No 191
Grid ref: SS 658 214
Nearest post code: EX37 9HF
Maps
See our map of the area below.
See our detailed map below.
Directions
- Travelling from Exeter or Barnstaple follow the A377 Barnstaple road until you are near King's Nympton railway station and then take the Fortescue Cross Newnham Junction turning onto the B3226 towards South Molton.
- Stay on this road, go over a bridge and past Head Mill Trout Farm, after about two and a half miles you will see a 'Woodlands for Sale' sign on your left hand side and the entrance to the wood.
- Just past the entrance on the right hand side is a lay-by. It is best to park here to view so as not to block the entrance to the woodland.
-Please note the purchaser will be provided with a key for vehicular access.
- Walk through the main woodland entrance via the public footpath gate and follow the main track directly in front of you until you reach a fork in the track. Take the right hand fork and walk through the wooden gate. This is a private track with no public rights of way.
- Pass a parking area on your left, and on the sharp right hand bend you will see the entrance track to Shilstone Wood on your left hand side.
- Walk down the entrance track and through the ride stop with the 'Shilstone Wood' name sign on it.
- Shilstone Wood also comes with a right of way across the the other main track, the track up the hill by the wooden gate that you would have just walked through. Please see plans 3 and 4.
- Satnav/GPS note: the postcode EX37 9HF is for the point shown by the red dot on the location map.
Boundaries:
All boundaries are indicated with green markings on posts and trees.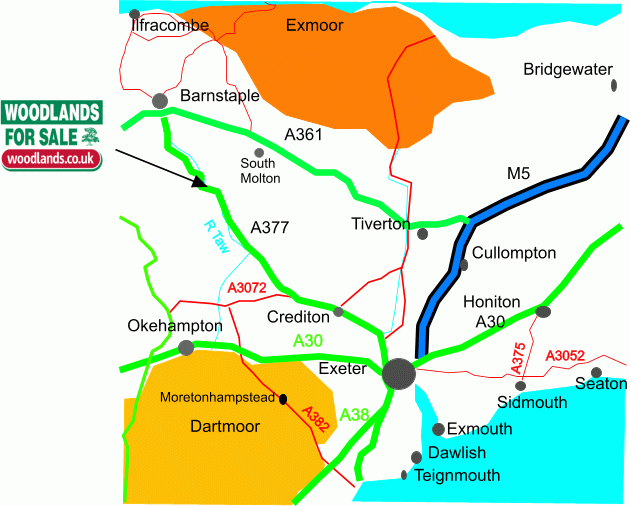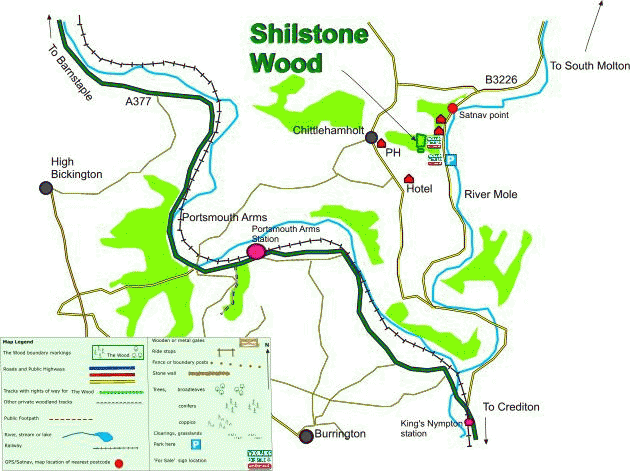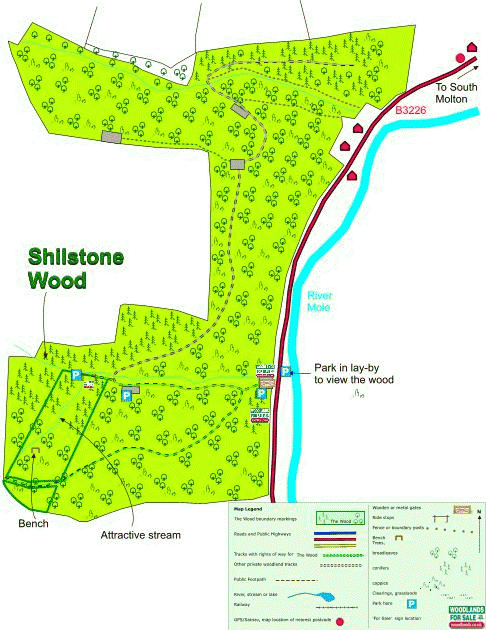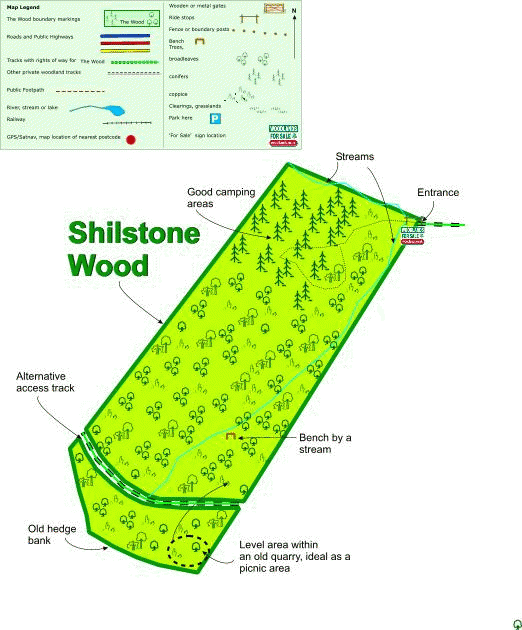 Email updates for this region
Our regional managers are often out working in our woodlands, so if you email an offer and want to be sure it has been received, please phone our manager on his or her mobile phone. The first offer at the stated price which is accepted, whether by phone or email, has priority.
Please take care when viewing as the great outdoors can contain unexpected hazards and woodlands are no exception. You should exercise common sense and caution, such as wearing appropriate footwear and avoiding visiting during high winds.
All woodlands are sold at a fixed price, and include free membership of the Small Woodland Owners Group and the Royal Forestry Society, as well as £300 towards paying for a course (or courses) to help with managing and enjoying your woodland.
These particulars are for guidance only and, though believed to be correct, do not form part of any contract. Woodland Investment Management Ltd hereby give notice under section 21 of the Estate Agents Act 1979 of their interest in the land being sold.