SOLD: Tawny Wood
£95,000
Freehold
Petham, Canterbury, Kent
11½ acres
entrance

summer folliage

chestnut coppice

lone ancient hornbeam pollard

well-grown coppice

bluebell seed

boundary beech

hornbeam

mature oak

bluebells

Blechnum

bluebells

rush

primrose

oak

intricate bark of oak
Description
Oak, and silver birch with sweet chestnut as both standard and coppice, shade large areas of bluebells. Considered to be semi-natural ancient woodland, although dominated by chestnut, is of high conservation quality and designated as an Local Wildlife Site, the map and description can be viewed by clicking HERE. This covers a wide area of woodland including Capel and Mounts Wood. In spring this area is favoured by nightingales and their loud song can often be heard in season. This part of Kent has a beauty recongnised by its inclusion in the Kent Downs Area of Outstanding Natural Beauty.
Getting to know a wood is a vital part of its management, walking through Tawny Wood it will be obvious some of the cheastnut isn't coppice but standards planted about 30 years ago. These will grow into manure single stemmed trees. They are tall and straight, thinning would encourage girth development.
Capel Road, a no through road, leaves the pretty village of Petham heads north and enters sweet chestnut coppice woodland. Almost at the far end is the bridleway which connects with Pennypot Lane and Anvil Green to the south. Tawny Wood is accessed off this bridleway, into an open area. The bridleway is solid.
Pollarded hornbeam at regular intervals hint at a management of an earlier age where boundaries in woodlands were shown by trees rather than fences. It's a cheap and permenant method of demarcation. The land-owner would sell coupes of coppice when the trees were ready, the pollards would stand out from the newly coppice woodland. Coppice products would have been an important part of the local economy. These hornbeam mark the northern boundary. Sporting rights included. There is an local authority article iv on these woods.
The purchasers of the woodland will be asked to enter into a covenant to ensure the quiet and peaceful enjoyment of adjoining woodlands and meadows.
Wood maps
Wood map
Boundaries
These are indicated by mauve markings and are: the track edge along the south, west there is a row of free-standing posts, east is the edge of the wood where it adjoins the footpath, and the north it follows a series of boundary trees.
Find this wood
This wood is now sold, please do not visit the wood without the permission of the owner.
Location
OS Landranger: OS No. 179
Grid ref: TR 106 504
Nearest post code: CT4 5RQ
GPS coordinates: 51.2164, 1.01703
Location map
Directions
Tawny Wood at Petham is about 5 miles south west of Canterbury and 12 miles north east of Ashford.
1 Click here for Bing Maps Directions enter your own postcode, the coordinates for an entrance gate are already entered.
2. For Satnav: the nearest postcode is CT4 5RQ shown as a red dot on the location plans. The coordinates for your satnav are N 51.222296, E 1.025083.
Please do not park by the gate in Capel Road.
Please phone 07811 818277 for the combination lock number, this will enable you to drive down to the parking/turning area on the right.
After parking continue on foot along the track until reaching the wood on the right hand side, with mauve markings and the Tawny Wood name plate.
3. For Satnav: the nearest postcode is CT4 5RQ in Capel Lane as shown by the red dot on the maps.
Coordinates are: N51.222475, E1.026267
How we support our buyers
Please note this wood is owned by woodlands.co.uk.
Our regional managers are often out working in our woodlands, so if you email an offer and want to be sure it has been received, please phone our manager on their mobile phone. The first offer at the stated price which is accepted, whether by phone or email, has priority.
Please take care when viewing as the great outdoors can contain unexpected hazards and woodlands are no exception. You should exercise common sense and caution, such as wearing appropriate footwear and avoiding visiting during high winds.
These particulars are for guidance only and, though believed to be correct, do not form part of any contract. Woodland Investment Management Ltd hereby give notice under section 21 of the Estate Agents Act 1979 of their interest in the land being sold.
Oak, birch and chestnut in a high status conservation woodland with lots of useful timber too.
Managed by Richard Scholfield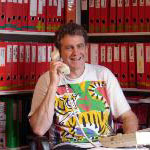 Telephone: 07811 818 277
Email: richard@woodlands.co.uk