SOLD: Coed Millward
£39,000
Freehold
Comins Coch, Aberystwyth , Ceredigion
4¼ acres
Top western section of wood

Veteran beech

Looking eastwards and towards the re-gen area

View out from the western boundary

View along the western boundary

View down the boundary path, looking towards the track, cut through the re-gen area on the southern boundary.

An amazing burr on beech

View through the beech glade looking towards the northern boundary

Wide shot of the top western section of wood

Solid stoned track running along the eastern boundary

Ride stop at entrance leading up to parking spot for Coed Millward

Footpath out of parking area leading to western part of the wood

Main gate and pull in area for Coed Rhydtir
Description
Coed Millward is named after Dr Edward Glynne Millward, otherwise known as Tedi Millward, one of the foremost powers behind the measures aimed at bringing the Welsh language back into everyday use and one time Vice President of the Welsh Nationalist Party, Plaid Cymru. His other claim to fame, although one he wasn't quite so enthusiastic about initially due to his republican ideals, is that he was responsible for tutoring Prince Charles in Welsh at Aberystwyth University, prior to the prince's investiture as Prince of Wales in 1969.
Coed Millward looks out over to the sea beyond Aberystwyth, and is a woodland to be enjoyed now, with an area in its western half of stunning mature beech, thickly carpeted with bluebells in spring, but also a woodland that promises much for the future with an area of thriving natural regeneration in the eastern half of the wood. With some stewardship, this regenerating area will develop into a biodiverse woodland of native broadleaf, hopefully ensuring its thriving existence into the future, much like Tedi Millward's intentions for the Welsh language!
The purchasers of the woodland will be asked to enter into a covenant to ensure the quiet and peaceful enjoyment of adjoining woodlands and meadows.
Trees
The eastern facing slope of Coed Millward, is covered by dense natural regeneration; the hardy pioneers such as birch, rowan and goat willow lead the charge, with saplings of oak, ash, beech and sycamore following along under their protection, and all among a thick mantle of bramble with flashes of gorse here and there.
Gaining higher ground, where it levels off at the western boundary, and at the western end of the northern boundary, the thick understory clears and you are among a glade of beech trees, one of which bears a remarkable burr. Around the fringes of the wood are some young ash.
A remarkable quantity of bluebell are on display at forest floor during spring, and other wildflower and ferns have thrived in this relatively undisturbed quarter of the woodland.
Wildlife
Extensive badger setts are present downhill from Coed Millward in the lower reaches of Coed Rhydtir.
The dense cover of the regenerating area offers good habitat to many birds and woodpeckers have been heard repeatedly.
Overhead, red kites are often seen circling.
Features
Level area at the highest point of the woodland provides a wonderful retreat with far reaching views to the sea.
Access, tracks and footpaths
Access to the larger woodland Coed Rhydtir, of which Coed Millward is a part, is directly off the A487 and easily accessible to all vehicles all year round.
Access to Coed Millward itself is up a stoned forest track with some very steep sections which we would advise is only suitable for four wheel drive vehicles.
There are no public footpaths through Coed Millward or the larger woodland, Coed Rhydtir.
Just north of Coed Rhydtir, it's possible to access a public footpath which links to a network of public footpaths and the Wales Coastal Path at the northernmost tip of Aberystwyth
Activities
Potentially a great camping base for further exploration of the wonderful Ceredigion coastline.
There are also opportunities here for conservation of the more mature areas of this woodland and the management of the younger parts, possibly establishing a coppice area to produce material for some form of woodland economy.
Great opportunities for nature and bird watching too!
Local area and history
Aberystwyth is a buzzing university town with all amenities, good food and bars and with its famous long Victorian seafront promenade and Wales' longest pier!
Up on Constitution Hill, at the north end of Aber is the cliff top Camera Obscura
Wood maps
Wood map
Boundaries
The boundaries of Coed Millward are marked with orange paint on wooden marker stakes, trees and fence posts.
The northern and eastern boundaries run along the edge of the access tracks.
The western boundary is fenced.
The southern boundary is marked by orange paint on wooden marker stakes and trees.
Find this wood
This wood is now sold, please do not visit the wood without the permission of the owner.
Location
OS Landranger: OS No. 135
Grid ref: SN 616 834
Nearest post code: SY23 3BJ
GPS coordinates: 52.431, -4.038
Location map
Directions
From Aberystwyth, travel north on the A487 towards Bow Street or Talybont.
Continuing downhill on the A487, just after the turning to Penrhyncoch, signposted off to the right, you will see a large pull in on the left and the entrance to the woodland with a Woodlands for Sale signboard. If using the postcode with SatNav, the entrance to the woodland is a quarter of a mile nearer to Aberystwyth than the turn off for the postcode given.
Park here and continue into the woodland on foot.
If you would like the code for the pedestrian gate, please contact Tamsin or Matt.
How we support our buyers
Please note this wood is owned by woodlands.co.uk.
Our regional managers are often out working in our woodlands, so if you email an offer and want to be sure it has been received, please phone our manager on their mobile phone. The first offer at the stated price which is accepted, whether by phone or email, has priority.
Please take care when viewing as the great outdoors can contain unexpected hazards and woodlands are no exception. You should exercise common sense and caution, such as wearing appropriate footwear and avoiding visiting during high winds.
These particulars are for guidance only and, though believed to be correct, do not form part of any contract. Woodland Investment Management Ltd hereby give notice under section 21 of the Estate Agents Act 1979 of their interest in the land being sold.
Views out to sea from this hilltop broadleaf woodland with a lovely stand of beech and an extraordinary swathe of bluebells in springtime.
Managed by Tamsin and Matt Brown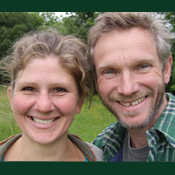 Telephone: 07956 256101
Telephone: 07950 379533