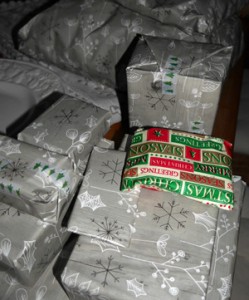 As you reach to buy the last roll of Christmas wrapping paper, spare a thought for the route it has taken to get to you.  Christmas is renowned as the time of over-indulgence.  The use of wrapping paper is no exception.   Every year 8,000 tonnes of wrapping paper are used to disguise the gifts we give and receive.  This, according to The Guardian's Hilary Osbourne is the equivalent of 50,000 trees.
Plenty of people will admit the wrapping and unwrapping of presents at Christmas is part of the festive ritual.  However, it is having serious environmental consequences.  In the UK, alone, enough Christmas wrapping paper is thrown away every Boxing Day to cover 85km2.   Wrapping paper is unfortunately not isolated in its huge wastage at this time of year.  It is estimated by Friends of the Earth that 744m Christmas cards are sent in the UK, many of which end up in the bin after Christmas.  Therefore, not only are the production processes of many Christmas accessories having an environmental impact, but also the disposal of them at the end of the festive period calls into question our sustainable efforts.
Although, I do not want to put a dampener on the festive spirit, it is evident that something needs to change.  Having an eco-Christmas is not as hard as may be expected. There are two main points of action that can be taken to ease your environmental conscience.  First, use recycled wrapping paper.  There are plenty of places that now stock 100% recycled wrapping paper and gift cards, including Natural Collection and Paperchase and it is not any more expensive. Secondly, if you are patient enough to open your gifts slowly you will be able to salvage paper, bags and ribbons to use next Christmas.  Re-using wrapping materials not only saves paper and so trees, but also saves you money.
---
---
Leave a comment