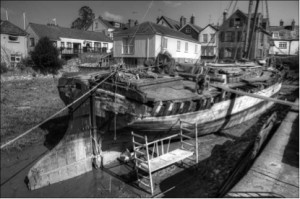 Woodlands.co.uk is helping with the supply of some materials (wood, timber) for the restoration of a majestic Thames sailing barge.   The barge is "The Vigilant", a 109 year old 'Edwardian Lady of the Thames.  It is undergoing a complete restoration at Topsham Quay in Devon.
The object of the project, (which will be seeking help from the Heritage Lottery Fund), is to return The Vigilant to sailing condition,  so that it serves as a living reminder of the part these trading vessels played in the building of Britain.  In its cargo carrying days, it could carry 120 tons.
The work being is being undertaken by local shipwright, Dave MacCabe, together with an army of volunteers from the community.  They have pitched in to try and prevent this beautiful craft deteriorating beyond economic repair, and being lost to the nation.   Time and tide have served to render much of Vigilant's wooden frames and planking beyond salvation so much of the wood will have to be replaced with new. Woodlands.co.uk has offered to provide much needed wood stock to keep the shipwrights supplied with essential materials.
Stuart Brooking of Woodlands.co.uk said... "This is a fantastic project which has captured the public's enthusiasm and has provided a much needed and appropriate focus for this former ship building town. We are delighted to be associated with Vigilant's restoration. If we can help to make it a success then that will ensure this important part of our maritime heritage is enjoyed by future generations. I look forward to seeing her when she returns to sea."
If you would like to learn more about The Vigilant or support this worthwhile project then email: info@vigilantbarge.com.  We hope to post more about the progress of the restoration.
---
---
Leave a comment