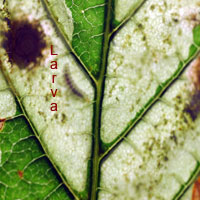 The 'progress' of the horse chestnut leaf miner (Cameraria ohridella) has been reported in the blog from summer 2006 to more recently, when a national survey was under way.  This small, but highly efficient parasitic moth was first 'discovered' in trees bordering Lake Ohrid in Macedonia in the mid-Eighties.  It was later described as species new to Europe, and since that time has managed to spread through almost all of Europe.
There has been a debate as to whether the moth
was an 'introduction'; from south east Asia, or
it was a parasite that had switched host – perhaps from sycamore or maple trees.
However, work on sheets * (with preserved specimens) of horse chestnut leaves from various herbaria have established that the larvae of the moth were present in foliage dating back to 1879; these early specimens were collected in Greece – a century before they were suspected to be present in Europe!  DNA analyses of the various specimens confirm that the moth has its origins in the Balkans – effectively quashing the introduction and host switch hypotheses.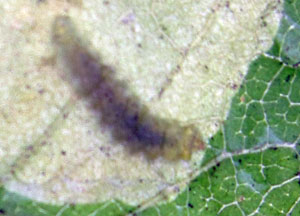 These recent studies of this moth (Cameraria ohridella) demonstrate the relevance and importance of herbaria in studing plant/insect interactions, past distributions of plants and their parasites and the origins of invasive species.   The leaf miner probably existed for centuries in remote sites in the Balkans, but with the development of roads / transport – the moth was able to 'escape' and spread.
For further information – click here
For images – click here
* by David Lees (an expert on moths and butterflies at the Natural History Museum and the National Institute for Agricultural Research, France and H Walter Lack (Botanic Garden and Museum, Berlin)
---
---
Leave a comment