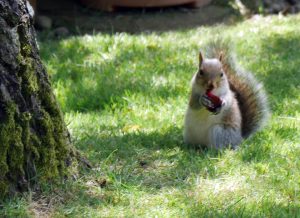 It is well known that the native populations of the red squirrel have been depleted in significant numbers over the last century  This is in part due to habitat loss, and competition with and displacement by the grey squirrel but also the insidious squirrel pox virus has been at work. Research workers at the Queen's University, Belfast have been investigating how this virus passes from animal to animal.
Though grey squirrels carry the virus, they seem to be relatively immune to its effects.  However, they pass out the virus in their urine.   The virus can persist in the environment for some time, especially if the conditions are dry and warm.   Uninfected squirrels are likely to come in contact with the virus (in dried urine) in Spring and Summer, when they are active and moving around in their territories.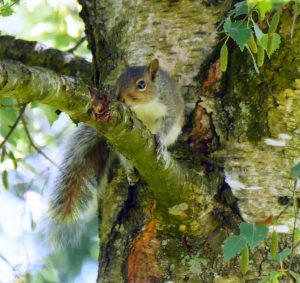 The level of virus in the blood stream of red squirrels can be some 50,000 times higher than that observed in an infected grey squirrel.   The red squirrels become very sick and suffer from diarrhoea - which carries a high load of virus particles.  So this too might facilitate the transmission of the virus within the red squirrel population.
However, there is yet another possibility for the transmission of the virus.  Squirrels have a number of ectoparasites - fleas, lice and ticks.   These feed upon the blood of the animal, and can carry the virus from an infected animal to an uninfected one.
Thus, the virus can pass from
infected grey squirrel to red squirrel - through urine
infected red squirrel to red squirrel through faeces
infected grey or red squirrel to red squirrel via biting parasites
This work again stresses the importance of limiting contact between the grey and red squirrels - particularly protecting the isolated population of red squirrels so that the virus (SQPV) does not enter those populations as the grey squirrel extends its range.
Further information on this work can be found here http://journals.plos.org/plosone/article?id=10.1371/journal.pone.0089521
---
---
Leave a comment