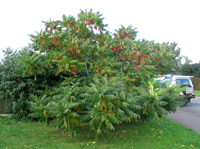 The Tree of Heaven or Ailanthus altissima was first introduced to the U.K, in 1751 (from China). It has been grown in gardens, parks and civic settings for many years being valued for its rapid growth, attractive foliage and colourful, winged fruits. It is a dioecious plant, that is, an individual plant either produces male or female flowers. In order to guarantee a good display of the fruits, you should ensure plants of both sexes are planted. It flowers and fruits well in hot summers.
However, some botanists are now concerned that with the change in our climate in recent times, the Ailanthus could become an invasive species. An example of an invasive species is Rhododendron ponticum – an ornamental flowering shrub. This shades out native species and causes problems in areas such as the Snowdonia National Park and the west coast of Scotland.The Plant Health Officer at Kew (Sara Redstone) has warned gardeners to be vigilant, removing self sown seedlings of Ailanthus before they become established. Problems with Ailanthus have already been reported in Hungary.
Ailanthus makes use of allelopathy. That is, it produces and releases into the ground chemicals that inhibit the germination and growth of other species. Ailanthus is tolerant of pollution, soil disturbance and is 'at home' in an urban environment. It may respond to cutting back by producing underground suckers that can damage pavements, drainage etc. The European Plant Protection Organisation has included Ailanthus in a list of plants that are a threat to plant health, environment and biodiversity in the EPPO region.
---
---
Leave a comment