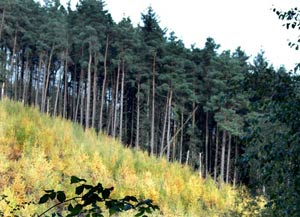 Coniferous plantations are found throughout the U.K.   There are some 300,000+ hectares in England, 900,000+ hectares in Scotland, and circa 106,000 hectares in Wales.   Large scale conifer planting 'took off' soon after the First World War.   At about this time, the woodland cover had fallen to 5% (in Britain) so the Forestry Commission was established. This had the aim of ensuring that there would be a strategic reserve of timber.
Vast areas of 'low grade' land were pressed into service.   Areas around Thetford and Kielder were used, as were some sandy coastal sites (e.g. Holkham in Norfolk) and many large tracts in Scotland (including the use of some natural peatlands).
Coniferous plantations may form dark, regular, 'rectangular; blocks of almost uniform colour – as natural as any other monoculture!  (such as a sugar cane or palm oil plantations).  Whilst Scots Pine, Yew and Juniper are conifers native to the U.K,  the majority of trees in coniferous plantations are introduced species – such as Douglas Fir, Corsican Pine, Sitka Spruce and Larch (though this is deciduous).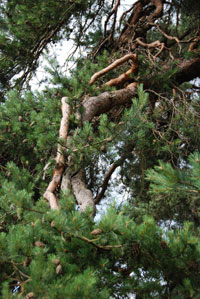 Scots Pine is also planted; it has a number of attractions.
It is a long-lived tree and will often go on for at least 150-200 years,
The orange bark that appears half way up the trunks and into the crown, offset by the bluish-green needle foliage, is most attractive.
Scots pine produces cones in most years providing seeds for crossbills, siskins and redpolls. The trees are also good habitat for the delightful goldcrest, members of the tit family, especially coal tits, and the long-eared owl.
A benefit of this regular flowering and cone production is widespread natural regeneration.   Scots Pine is sometime used in the 'recreation' of Caledonian Forest.
Douglas Fir (Pseudotsuga menziesii) originated in western Northern America. Its needles are said to smell of oranges when rubbed or crushed.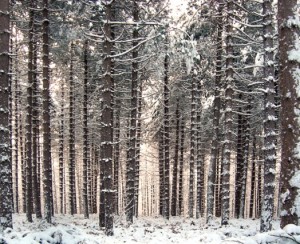 They can grow to 100 metres or more in height and they are valuable timber trees. The sitka spruce (Picea sitchensis) is a fast growing conifer (reaching up to 50 metres), again from North America. It can grow in upland areas, and in wet and / or acid soil. Its needles have a bluish tinge and the branches point upwards.
Corsican pine is another non-native tree,  and is more productive tree than Scots pine – growing faster with straighter trunks,  though less valuable for wildlife. The trees are also long-lived and can grow to large size.  Corsican pine can be susceptible to red band needle blight.
Some plantations have a very high density of planting (and the trees may be remarkably uniform in age) – in consequence, the light intensity at ground level is low. Low light intensity coupled with a deep layer of needle litter inhibits or prevents the growth of many plant species. However, along access rides and in thinned areas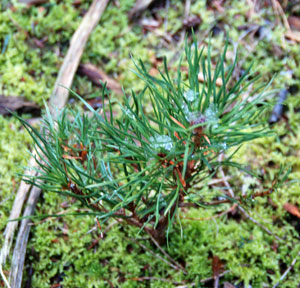 various (heathland) species and bracken can grow.
As conservation and biodiversity now form part of the Forestry Commission remit (e.g. Open Habitats policy) so mosaics of different aged stands form as a result of shifting 'clear fell', the introduction of firebreaks and creation of clearings and rides.   Consequently, coniferous plantations can and do support wildlife. For example, birds that favour scrub (e.g. warblers), black grouse like young pine trees, night jars, long eared owls and bats appears at dusk and goshawks and osprey nest in tall pines – plus red and roe deer are to be found in plantations. Plantations with a variety of conifers offer 'strongholds' for red squirrels, and the orchid creeping lady's tresses is found in pinewoods in areas as diverse as Scotland, Cumbria and East Anglia.
---
---
Leave a comment