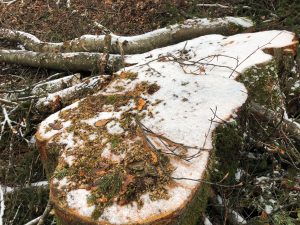 Arriving at our woodland after an absence of some time I was devastated to find that a whole section of it had been felled.  I hadn't given permission and it's not what I wanted at all.  Hundred-year-old oaks and big ash trees had gone.  Oh, and there were the stumps of those beautiful beech trees which I'd loved.  To tell the truth I was quite emotional.  I cried, and then I was angry.  Then I was frustrated, knowing that whatever the explanation it wouldn't bring back the trees.  Even if I replanted them - which of course I would - the new trees wouldn't reach maturity in my lifetime.
The explanation turned out to be as prosaic as it was disappointing - the authorities has decided that they needed to make the valley safe from the risk of trees falling into the stream.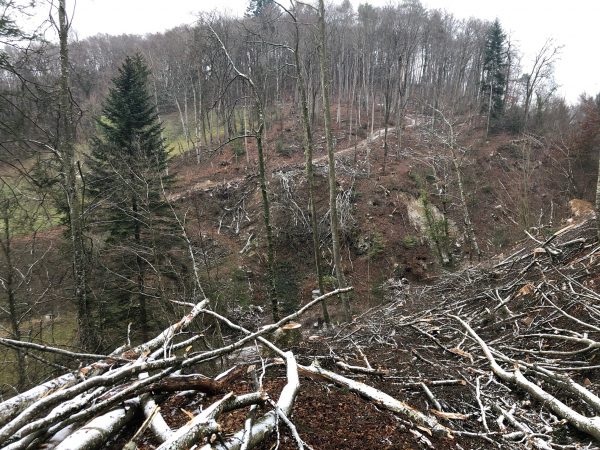 This might in turn result in a build-up of water and mud,  which might then be released and be a risk to people and property.  I didn't accept the argument.  Generally speaking,  the roots of such trees hold the stream bank together and the trees were very unlikely to be blown over.  Furthermore,  many of the trees that had been cut down were well away from the stream.   But it turned out that they did have authority to do some felling near the waterway that my neighbour had agreed;  and the officials had mis-understood that he was agreeing on my behalf.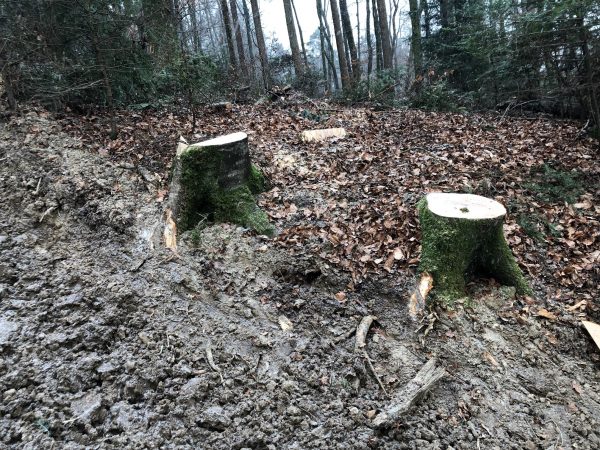 I wasn't interested in pursuing it legally and looking for compensation - money wouldn't bring back the trees - however crass it was, they'd done what they thought was right - but "my trees" were gone.  I was left with a hollow feeling.  My frustration and anger reminded me of the emotional response to the proposed selling off of the English Forestry Commission estate a few years back.  Also the emotive issues around the cutting of the Cherry Orchard in Checkov's play of that name.  We humans have an emotional attachment to trees which sometimes takes us by surprise, especially when the trees are under threat - or are felled.  Even when the trees are lost through an "act of God" such as the 1987 storm in southern England - we realise how much trees mean to us.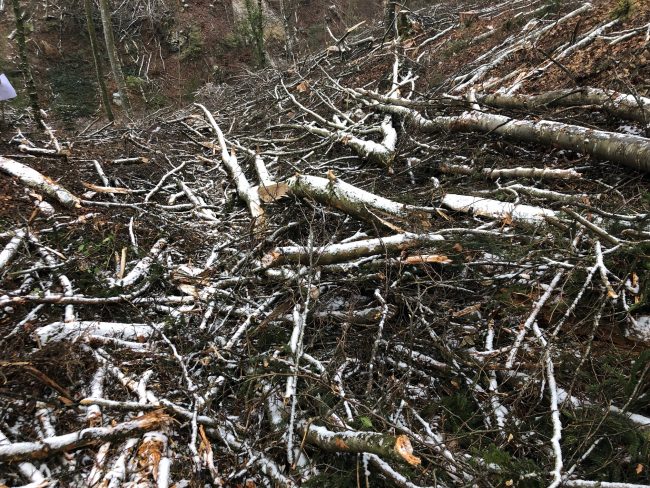 This might be the reason that disputes over trees can do so much damage to neighbour relations - the neighbour's tree may be clearly on their own land but you live with it and it's part of your world so if they decide, unilaterally, to cut it down you can get inexplicably angry and frustrated.  Efforts to protect trees through TPOs are understandable as are the consequences of breaking a TPO, but still if the tree disappears no amount of fining the culprit will bring back the tree.  Only time heals these wounds.  And replanting.
---
---
Leave a comment