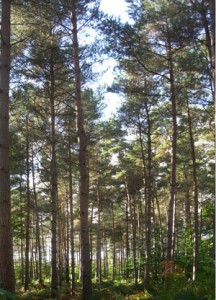 As a chartered forester and one who believes in the responsible management of woodlands for multiple objectives, it was an educational exercise for me to survey and write reports for owners of small "PAWS  (Planted Ancient Woodland Sites) woodlands" in North Yorkshire sold by woodlands.co.uk and their Northern England team. The survey work was funded by the Woodland Trusts Outreach Department and is primarily concerned with improving the condition and resilience of Planted Ancient Woodland Sites (PAWS) and Ancient Semi-Natural Woodland (ASNW) through ancient woodland restoration processes. 
I had the pleasure of meeting a number of different owners across some 13 hectares of mature pine plantation woodland in the Vale of York. The woodlands themselves are an oasis in an intensively farmed landscape. All of the owners I met have the primary objectives of enjoying their woodlands for amenity and personal recreation and looking after them for their nature conservation value. Some had a great deal  of knowledge of woodlands and woodland management , whereas others were starting from a blank canvas but all had a passion for woodlands. 
The work I carried out focused on providing practical and achievable advice on what owners can do to ensure they will enjoy their woodlands in the long term, and how to look after and understand the all too important soil and floral resource in ancient woodlands. Our aim was to provide advice on
achievable solutions to threats from invasive species,
management of light and succession and 
dealing with pests and diseases 
These all come together under the banner of ancient woodland restoration and management in the face of climate change. These are key messages when it comes to the management of small areas of woodland under a range of ownerships.
Understanding the individual motivations of the owners as to why they bought the woodland has been a positive experience for me. Providing people with the opportunity to have a modest piece of woodland that they can enjoy and treasure is not only a good thing for the woodland owners (in terms of their personal wellbeing) but also for the protection of the woodland as an ancient woodland site.   There are now many more more people actively involved in the care and management of woodland across the U.K.
A few weeks on from completing the surveys and reports, there has only been positive feedback from the owners on the advice given.  I am hopeful that the majority of the woodland owners will now go on to implement some, if not all, of the recommendations provided. 
I hope to see many more people become proud guardians of woodlands in the future.
December 2020
---
---
---
Leave a comment