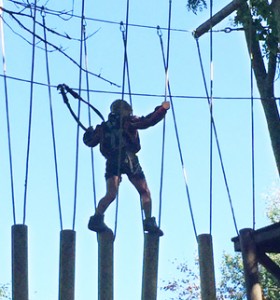 "Setting up our own business has been one steep learning curve after another," says Mark Oakden, whose background is in construction and surveying.  "When we opened to the public in May this year, we expected to be immediately overwhelmed by customers but it's taken some time to build up.  Now, 4 months on, it's going really well and we sometimes have 60 people in the wood climbing at the same time.  The most satisfying for me is working with kids who have disabilities or troubled backgrounds.  To be able to do something like this gives them huge self-confidence as well as a thrill."
Mark and his business partner Dave lease two acres of oak woodland at Bentley in East Sussex (near Lewes) and have invested over £300,000 to set up their high walkways, giant swing, climbing wall and zip wire.  A key part of the attraction is the cafe and outdoor deck so parents can have a cup of tea while watching their children walking high in the trees.  This has also helped to generate regular visitors which is critical to a business of this sort.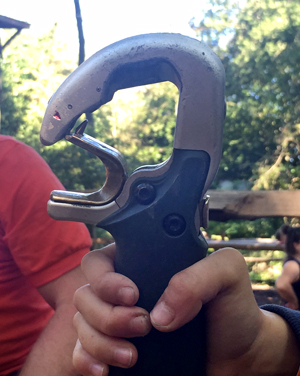 In order to climb at BranchingOutAdventures.co.uk you have to be at least 6 years old and over 1.2 metres high (about 4ft).  It's a great father-son or mother-daughter activity and for a child and adult together it costs £18 to do a circuit which is about an hour's climbing.  Sometimes things don't work out as planned - while I was visiting a boy got nervous on the walkway and Mark had to go off with their ladder to rescue him.  Every climber is wearing a full safety harness and is clipped onto the safety wire, but Branching Out Adventures has a fail-safe system so that it's impossible to release both the clips on the lanyard at the same time.
"Compared to competitors we are 'half price', have a fantastic giant swing and visitors don't have to pay for parking"  Mark and Dave live just a few fields away.  Branching Out Adventures gets new people into the woodlands and those who go up onto the high walkways see the woodland from a new angle.
---
---
---
Leave a comment