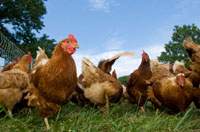 Free-range poultry is a popular choice among shoppers, with many consumers choosing to go free-range for ethical and environmental reasons.  Some people are going one step further, rearing their own free-range chickens in their back gardens or woodlands.  Although they require daily care, chickens can be less demanding than dogs or cats and are surprisingly easy to rear.
Chickens can be kept in urban areas, but are believed to be at their happiest in open, wooded areas.  They spend much of their time in the shade – an instinct thought to date back to their origins as 'jungle fowl' hiding under trees to evade predators.  Woodlands are ideal environments for chickens, providing them with shade, shelter and space to roam.
Well-treated chickens are said to produce better quality eggs and meat than those kept in captivity, with some people claiming they can immediately spot the difference in taste between a free-range hen egg and that of a battery hen.
Chickens flourish in the open air and should be given plenty of space.  Although they can only flutter, chickens love to run around and scratch for their own food.  They can subsist on a diet of insects, grass seeds and weeds, and are well suited to rough, grassy areas where they can dig and search for food.
Chickens' appetite for slugs and insects can help to keep pests at bay in a garden.  However, they can disturb the woodland floor by creating mud baths to relieve themselves of parasites.
Your chickens may be targeted by hungry predators, and you might want electric fencing to deter them.   Rabbit-proof fencing to prevent chickens from roaming is essential, and they will appreciate a hen house with a ramp, wooden roof, hatch and lighting.  Alternatively, an old farm building or shed can provide a safe sleeping space.
Any advice you can add on keeping chickens?
---
Comments are closed for this post.
---
Leave a comment