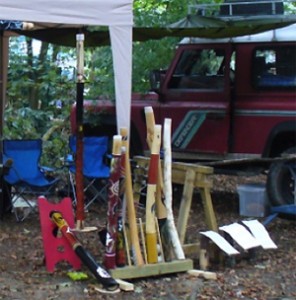 After my Blog for Woodlands.co.uk on didgeridoo making, I was formally invited to demonstrate at Elvaston Wood Fayre in Derbyshire. A fantastic opportunity for me to meet new people, take on new ideas, and to show people how Didgeridoos can be made. As well as this there was an opportunity for my company to sell some of our handcrafted products.
The Elvaston fayre was now in its fourth year and seemed to celebrate great success. A wonderfully organised collection of skills and rural crafts which gathered together a lovely group of friendly craftspeople. Although we didn't get time to see all of the stands, from what we saw there was a diverse array of skills being demonstrated from chair making and a wheelwright, to chainsaw carving and wood turning. There was even a secluded corner of the woods where the children were listening to stories from the Green Man.
We arrived on the Friday, and set ourselves up in the space allocated for our stand. This was really good as we were in a perfect position in amongst the trees of a dappled woodland area. After setting up the stand and cooking tea, we were rather exhausted - so settled down for an early night.
Saturday morning dawned sunny and dry, and after putting the final touches to our stall, we braced ourselves for what was to turn out to be a very manic day!   Along with demonstrating the making of my didgeridoos, a lot of our time was taken up with teaching people how to play and answering a variety of questions. I found this really good because many of the children were fascinated by the sound and were always ready and willing to try to play themselves. Also, it was great to see some of the children teaching their parents what didgeridoos were, and encouraging even the shyest mums to have a go and look a bit silly!
More of a weekend spent doing something I am very passionate about, rather than a money making affair.   I thoroughly enjoyed it and would happily do it again next year. I strongly believe that these types of events are vitally important to keeping the traditional woodland crafts alive and educating the next generation. I would like to thank Woodlands.co.uk for giving me the opportunity to attend, and a big thank you to Steph Burkinshaw from Derbyshire County Council for inviting me and all her hard work organising such a wonderful fayre.
Contact details : Stu Murdoch, Shaw Wood. Email - stumurdoch_241(at)hotmail.com
Further details of the wood fayre :
http://www.derbyshire.gov.uk/leisure/countryside/countryside_sites/country_parks/elvaston/events/default.asp
---
---
Leave a comment