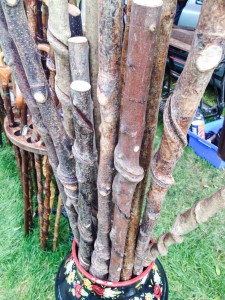 Woodlands.co.uk is 'republishing' this blog, as contact details for the Jones family are now available and several people have expressed an interest in having a walking stick 'custom made'.  The blog originally appeared in 2014. Contact email address is pj451324(at)gmail.com
---
Peter Jones and his sons make walking sticks on a serious scale using sticks they come across in the woods, where they do their forestry work.  They use chestnut, silver birch, oak and hazel.  But they avoid using willow, as it goes brittle once it's aged.  Apart from finding the right stick to work on they need a steamer for bending the tops of the walking sticks and a good supply of sealant and varnish for protecting the finished sticks.
"Honeysuckle makes the best twist sticks" advises out Peter Jones, who comes across a lot of twisted stems in Kent and East Sussex.  As a result, he is able to trade these with fellow stick makers in more northern English areas - they give him carved tops for walking sticks in exchange for good twisted shanks.  But even among twisted sticks there is variety: the slower growing trees such as holly and oak twist more slowly whilst the fast-growing chestnut twists quickly.  Though he also corrected me pointing out that the maker of walking sticks should really be called a "stick dresser"
Peter's first experience of walking sticks was 30 years ago when he was using sticks for "beating".  He and the other beaters used sticks to get pheasants to fly up for the "guns" to shoot.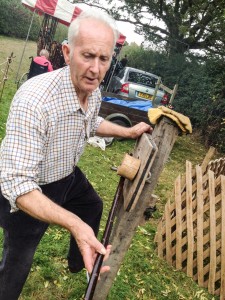 For that exercise, he first started creating walking sticks and hasn't really stopped since.  But he has become more sophisticated.
The steamer, for example, boils water in a kettle-like chamber and the water vapour fills a second chamber where  as many as 15-20 sticks at a time can be steamed, ready for him to bend over their tops.  It takes about half an hour to steam a batch and Peter uses a novel device for doing the bending.   Once the sticks are bent over, they have to be sealed quite soon so the they don't unbend themselves.
Peter Jones says that his industry is shrinking in size but not because the stick-dressing skills are dying out but because demand for wooden walking sticks has reduced.  Maybe that's because people use aluminium walking sticks or maybe, as Peter laments, "the problem is that there is this myth that you have to be old to have a stick."
---
---
---
Leave a comment