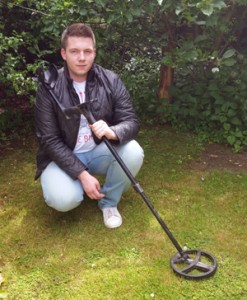 I have always been interested in history since a young age and over the years this interest has developed, until one day about 3 years ago, I got the urge to buy a metal detector. Since then, I have been exploring the fields of Wiltshire and Somerset. The reason that I enjoy it so much is that it is a great way to unwind and get some exercise; though the main reason for me is that whatever I dig, someone was stood right where I am now possibly thousands of years ago and I try and imagine what it would have looked like around me back then.
Where ever I want to 'metal detect", I have to get permission of the land owner to metal detect / investigate on their land. With this in mind, I approached woodlands.co.uk and they have kindly granted me permission to explore a wood in the Bath area. I have never detected in woods before - so this will be a new experience, which I look forward to and possibly a steep learning curve.
How my metal detector works and why I chose it!
The metal detector I use is the XP Deus. It is one of the world's most technologically advanced metal detectors.   It was also the first fully wireless metal detector available on the market. The coil is the heart of this detector, handling the detection, analysis and then transmission of processed information to both the remote control, and the headphones. The XP Deus will operate with the remote control and headphones, or either of them on their own.  So, for instance, on wet days you could leave the remote control at home and use just the headphones.
The coil is mounted to a very clever 'S' shaped stem system, which is fully adjustable and can be fully collapsed for transportation. The remote control can then be fixed just above the handgrip. This whole setup is ridiculously light. It weighs in at only 992 grams (890 grams without the remote control)  meaning that I can metal detect for hours without any fatigue in my arm.
Another surprise for me was that the XP Deus has the ability of changing its frequency from between 4KHz to 18KHz in four graduated steps. 4KHz is ideal for deep ground penetration with reduced sensitivity to tiny fragments of metal, while the 18KHz setting is very sensitive to small objects. The 8KHz and 12KHz are good compromises for a reasonable balance of depth and sensitivity. These are well thought out frequency choices - making the machine very versatile, being able to adapt to any ground condition. Many other detectors available are set with one frequency.
What have I found before.
I have found items dating all the way back to Roman times (including coins and broaches), right down to modern day junk, which has been simply discarded. You would be amazed at the amount of modern rubbish I find (from the last 50 years) compared to all other finds going back thousands of years. It is a shame that this modern rubbish has been wantonly discarded.    Some of my key finds include a Medieval Pilgrim's badge depicting St George slaying the dragon, a King Henry III penny, an Elizabeth I sixpence and a George III shilling.
What I expect to find
Well to start it off, I fully expect to find old shotgun cartridges. I imagine that this woodland has been used many times over the years for hunting, so finding cartridges is almost inevitable. From the research that I have done on the area, it seems that there was a roman farming settlement sitting on the edge of the woodland and there are many ancient track-ways going through the wood.  Monk's would have journeyed between two priories that are nearby.   So I am hoping to find (a) items from the Roman period to link in with the nearby settlement and (b) any evidence to suggest that the monks used these routes to go between the priory's. I also expect to find various items from the 18th century to the modern day.
Research
Over the last few weeks I have been doing lots of research into the area that I am looking to explore. Some of the research includes looking at county records of the area and this has revealed the information about the roman settlement and the monks' journeys to the priories. I have also been looking at maps from the 19th century, which show various tracks and paths through the wood.
 Another tool that I have used is a function called LIDAR (Light Detection and Ranging), which creates a 3D image of the area. It has only in the last few years been used for archaeological research but it is a great tool to use as it can show features in the ground that can't be seen by the naked eye.
 I look forward to spending the next few weeks searching the wood and at the end of my searches, I will write another blog and share with you all what I have found.
---
---
Leave a comment