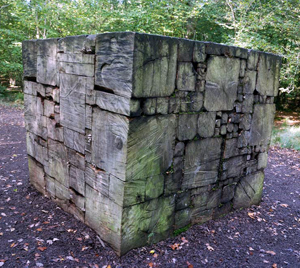 A recent visit to the Forest of Dean Sculpture Trail turned out to be not one, but three truly memorable experiences.   Firstly, the 7km walk through the forest in all its early autumn colours, with spectacular, huge beeches and ancient yews was worth the admission in itself. In fact, entry is free but there is a pay & display car park and a map/guide for the trail is £1.50 – but well worth the money.
The walking is easy along broad, well-maintained tracks with only the occasional slope to negotiate; although it is also possible, indeed necessary to wander off the tracks to try and discover some of the uncharted sculptures which have been deliberately left off the guide in order to encourage exploration.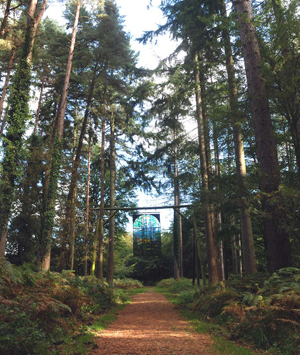 Secondly, there were the 17 sculptures which are marked on the map. These are as varied as they are inspirational and thought-provoking, with many of them referencing the area's industrial heritage.   Beechenhurst Lodge, the start/end point for the trail, is built on the site of the former Speech House colliery and the route of the train line which conveyed the coal and iron is still visible in places. I think my personal favourite piece was "Cathedral" [Kevin Atherton, 1986]. Up close, this is a brilliantly coloured and constructed stained glass panel depicting the surrounding forest, but viewed from a distance it seems as if you are simply looking at the landscape beyond through a clear glass window.
Thirdly, and this really was an unexpected bonus, were our two encounters with some of the forest's famous residents – wild boar. We spotted what we thought was a lone boar in some dense undergrowth. In the excitement to get in position for a photograph, I forgot to disable the flash and the resultant sudden glare produced a less than welcoming response, so I made a fairly hasty and not very elegant exit from my photo-spot.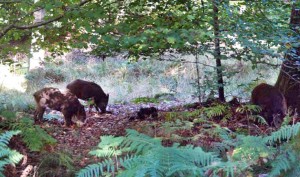 Reviewing the photo afterwards, the flash revealed three baby boar browsing nearby – probably another reason for mum's displeasure.  However, dejection (at not getting that killer photo) turned to elation shortly after when we came across a group of 6 or 7 juvenile boar, on open ground, gorging themselves on beechmast.   This really was the icing on the cake. All in all, a fantastic place to visit and somewhere I hope to return to – perhaps to experience it in the springtime.
---
---
Leave a comment