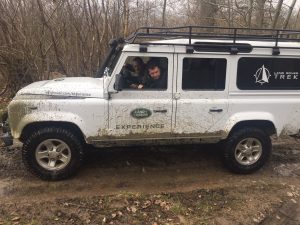 Our 4WD instructor, Paul, is a Falklands veteran as well as being a retired fireman. So he wasn't phased by having to drive through one-metre deep puddles and reversing up very steep off-road slopes. For his off-road pupils, like me, it was a different story - we were discovering the limits of the Land Rover Explorer that we were driving around the Eastnor Castle estate at Ledbury in Herefordhsire. Most of the tracks on this 5,000 acre estate are through woodland with hundreds of yew trees, oaks and hazel coppice stools. It's an SSSI (important scintifically) so you can't drive off the tracks. The main woodland we used is actually called "Clenchers Wood" which is a very appropriate name considering how most drivers' bottoms react to seeing the slopes they are about to drive down.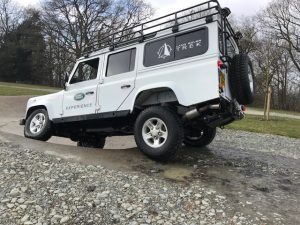 "The reason many of the lads in Afghanistan have tattoos is so they know that if something happens to them their bodies will be recognised" said Paul as I plunged the car into a puddle that was so long I couldn't see dry land at the other end. "Don't worry, the track's solid underneath and it doesn't get much deeper than this," he reassured me as I worried about water seeping in through the door seals.
Eastnor Estate hosts the Land Rover test-driving centre which it uses to test out new models and train drivers. Land Rover has had a very long relationship with the estate and has been testing cars here since the early 1960s - and the relationship continues into the new era of Land Rover which is now owned by the Indian conglomerate, Tata, who bought it for just £1, a lot less than the cars we were driving - Discovery and Explorer vehicles.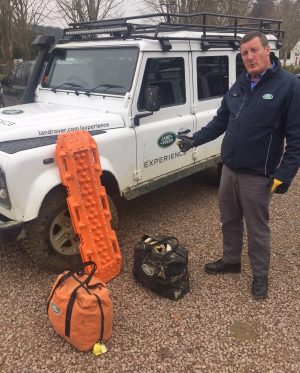 On the day we were there some areas were out of bounds because HBO were making a film at the castle and apparently paying almost £10,000 a day for the privilege. Weddings are another source of income for the estate with the cost being about £25,000 a time and occasionally a 4WD vehicle appears in the background of the wedding photos.
In principle, our off-road training course was teaching us how to rescue a stuck vehicle - perhaps by using a shovel, or various traction aids such as 1.5 metre flourescent orange plastic tracks, using the winch fitted to the front of the car (image below) or sometimes by towing a car out with another off-road vehicle. If you do that you need a strong point to hitch from and ideally you tie onto one of the JATE rings - the strong anchors the military use when airlifting a landrover into new terrain. Much better than any of these methods, wherever possible, is to just drive the Explorer out of trouble and our instructors showed us how to do this using the gears and accelerator to maximum effect. In a woodland context we were mainly faced with mud but 4-wheel drive cars are also vital for driving through sand or snow - they are used in the Falklands, in Afghanistan and in many British woodlands with muddy tracks.
---
Photos by Matt Brown and Angus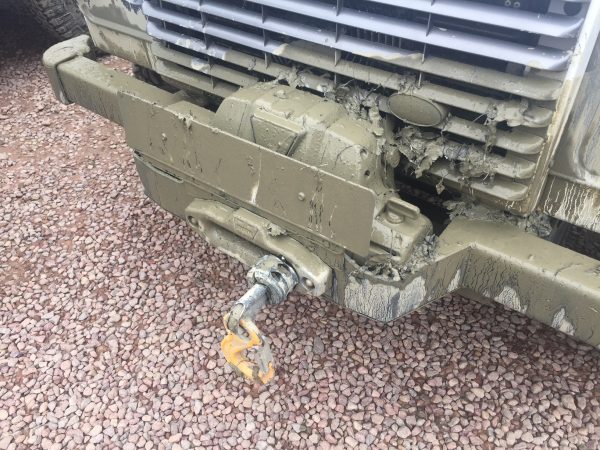 ---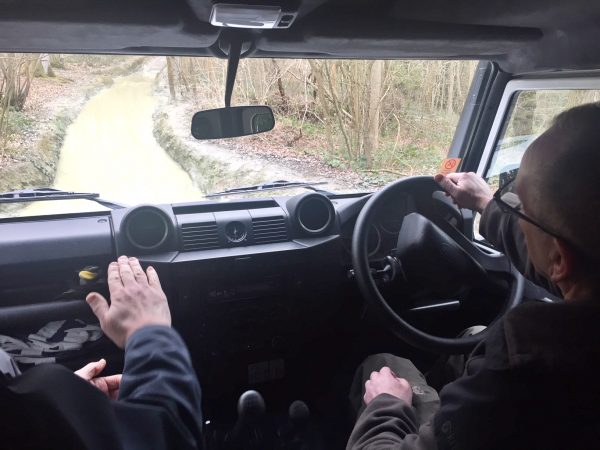 ---
---
---
Leave a comment