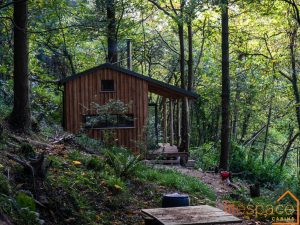 One family's account of buying a their own piece of woodland in Devon.
There are many reasons why you might want to buy a piece of woodland. Perhaps you want to use it for wildlife conservation or to help you and your family strive for a better way of life and well being.   For the Turner family their decision was motivated by the latter. They wanted a place they could escape from the stresses and strain of modern life and the trappings of digital connectivity.
Martin Turner discovered woodlands.co.uk who specialise in selling parcels of woodland. Woodlands had a wide range of potential sites and after making contact, Martin was soon viewing potential locations with the local woodland manager.   The family wanted their woodland to be close enough to their home so that they could easily reach it within half an hour. Their criteria also included a light, varied and characterful piece of woodland, with good vehicle access,  the potential for the production of firewood and all of this in an area with no phone signal!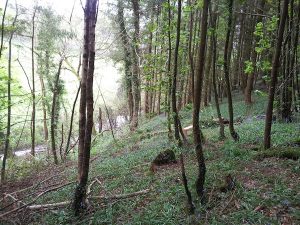 In 2013, they bought their piece of woodland just outside Totnes in Devon. It was, in fact, the very first piece of woodland they saw! It fulfilled their original criteria  and also had the benefit of a river running along a boundary and views across farmland in a quiet valley. The woods contained douglas fir, sweet chestnut and some really mature oaks and beech on the perimeter.
As soon as a purchase is completed,  woodlands.co.uk gives you further advice on accessing your woodland plus a package of books and subscriptions to make it easier and more enjoyable to get started with the intricacies of woodland management. These include copies of "Getting Started in Your Own Wood" and "Managing your Woodland for Wildlife". You are also introduced to the  Small Woodlands Owners Group (SWOG) , an informal group of small woodland owners throughout the country. Plus woodlands.co.uk also pay for a year's membership of the Royal Forestry Society. These organisations send regular magazines or newsletters and also give you the Living Woods magazine.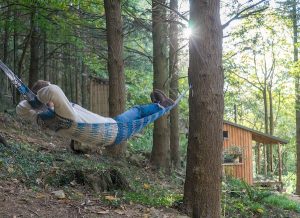 Last but not least, you receive a grant of £300 towards the cost of any course this can help you with manage and enjoy your woodland. Courses can be craft based or more technical / practical.  Surprised at the number of courses available,  Martin chose the chainsaw training course , knowing that one of his first tasks would be to thin out some of the trees.
For some four years,  the Turner's visited their woodland, spending time as a family enjoying the management of the trees. Their enjoyment of the land matured to encompass  a love of all aspects of outdoor skills and living. The family have developed a talent of wild cooking and dining,  free from the chores and constraints of a 'standard' domestic garden. The freedom and feeling of owning a meaningful piece of Britain has heightened the gravity and connection to the wood way beyond their expectations.
The desire to build a 'Forestry store' borne from a need for a practical solution to storage and shelter was soon burning within them.   By 2017 they had decided on the perfect spot. Their chosen location was based on a number of considered factors. Having spent the previous years watching the seasons, taking into consideration wind direction, the path of the sun, rainfall and how water flows over the land, where the animals walk, nest and burrow, thinning of trees to achieve to allow the carpet of the woodland to flourish again while opening up a view.
Once again the family sought advice from woodlands.co.uk who advised on the type of structure they could build and what use they could for. There is an informative and detailed article by Lucy Nichol on what 'building' is and is not allowed in woodland.   The family designed a 5x5M space, with covered veranda where they could read, whittle, chat, and dangle their feet over the edge whilst taking in the view over the fields and listening to the flowing stream and the wind in the trees. Woodland owners are usually allowed a 'Forestry store' – this is a shed-type structure which you obtain via a Permitted development application to the Local Authority. It is advisable when putting in an application for a 'Forestry store' that you have a Woodland Management Plan in place, ideally with the Forestry Commission as this shows how you hope to manage the woodland and thus the need for the structure. Also the store is not allowed permanent foundations and should be in keeping with the surroundings as Martin has done by cladding with wood from his trees.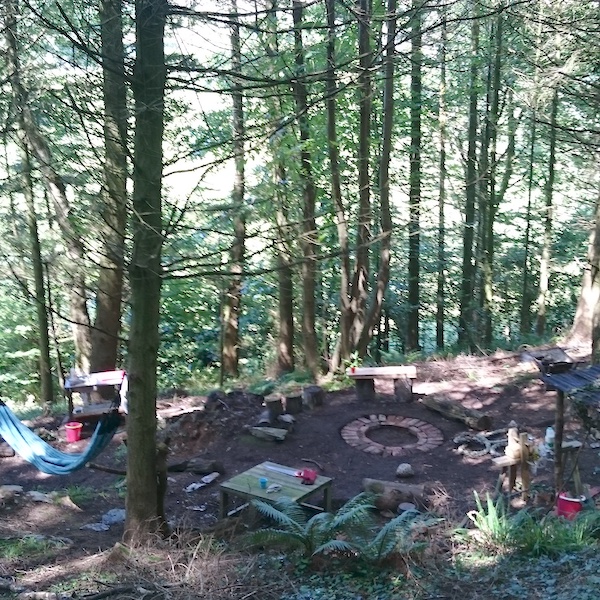 Internally, they wanted to keep it simple, after all it is in the middle of a wood and they have two dogs and two children. This is not Egyptian cotton sheets, it's muddy boots and tools!  The Forestry store is made from locally sourced larch timber cladding, it is fully insulated timber structure with repurposed windows and doors.  They also have a Salamander Hobbit wood burner for those cold winter days when they need to shelter and brew a cuppa!  The veranda roof supports are sweet chestnut (from the wood) that Martin felled himself, using his new chainsaw qualification, and the bark stripped back with his teenage son.  One of the challenges of the build was linked to the sloping site, which involved additional work to achieve access and then create a platform for the cabin.   The family now mix their time and activities in the wood. Their activities include wildlife watching, woodland management, cooking, eating and drinking! The cabin is a true escape, release and reconnection with nature and each other.
---
A woodland diary by Martin Turner
"During the summer the woodland and its wildlife is consciously left to its own devices meaning we can spend time on the coast. I hasten to add when the we have the long days and short nights spending a good day grafting in the woods in the warm summer sun and a treating yourself to a cold beer and dinner cooked on the open fire can't be beaten.     
During autumn and winter when the leaves have dropped we will fell some of the trees we have identified and marked during spring and summer time to allow more light in.  This could be because we want a clearing, but generally the  trees are marked to open an area up and let more light in, encouraging the flora and fauna to find its place and grow in the woodland.  Year on year,  we will do this allowing nature to advise us what to do next year.
I was once told that a woodland where you see a healthy quantity of ferns is a woodland where there is enough light coming through the canopy allowing the natural flora to grow.  Autumn and winter is a good time to fell as there is less water rising in the trees and therefore they will season quicker, also this is before the birds start building their nests in spring.  Also during this period we will also see how well the blue bells are growing, do they need more light for next year?  Is this an area we will leave completely and make a track around it so we don't walk all over it allowing it to evolve year on year. Maybe a mental note taken where at some stage a bench could be made and a track into the middle where next spring you can just enjoy sitting amongst them.  There is always something to do, some are long term decisions and some can be carried out there and then.  
You may come to the woods after a storm and a tree or several trees have come down and this changes or evolves previous plans you had made.  That is just the way it is, there is only so much you can control which is quite nice, it reminds you that nature is really the one in charge."
---
[Martin Turner is a Director at Life Space Cabins.  www.lifespacecabins.co.uk. They make bespoke structures that can be put into woodlands subject to necessary permissions.  Whilst shelters and tool stores are generally welcomed by planners who want to see woodlands being well-managed, you may need to get planning approval from the  local authority to put in even a small cabin.]
---
---
Leave a comment