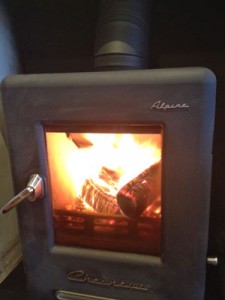 Tim Britton is the owner of a small woodland where he tries to promote species diversity through what he calls "low key management".  He's created a wildflower meadow, manages several small ponds and keeps a handful of Jacobs sheep.  Tim pursues a lifestyle which is as low-carbon as possible and he heats his house with a wood-burner, using wood from his woodland.  He also minimises his carbon footprint, like many people, by never flying, growing a lot of his own vegetables and travelling by bike and public transport.  He's also been keeping bees for 35 years.
"We're the only creature on earth that's evolved to sniff out the Carbon deposits, dig them out and convert them at high speed into Carbon Dioxide - so bringing our own distinct geological era"  points out Tim Britton.  His film is a response to behaviour which releases carbon and is creating the emerging environmental catastrophe:  "I'm hoping my film, 'Carbon Weevils', will get people to think of themselves in a different light - by taking a step sideways we can laugh and be slightly embarrassed at the same time.  I think serious stuff wrapped up in humour is a good way to get people thinking - and I hope it's just a small nudge towards changing minds."
Carbon Weevils:
[or surf to https://www.youtube.com/watch?v=Hhldeq41KXs ]
Self-taught, Tim Britton loved drawing funny people as a child and he learnt from comics like The Beezer, The Beano and the Tintin series.  He also admires Edward Lear, Giles (the cartoonist) and Saul Steinberg, the illustrator, who calls himself "the writer who draws".  His first films were animations that he made on 8mm in the 1970s.
"The idea of the Carbon Weevil had been fizzing about in my brain for some years.... and I wanted to create something about Climate Change and Global Warming."  He made this short film through Forkbeard Fantasy, a Theatre and Film Company - which Tim set up in the 1970s with his brother.  Putting the film into context, Tim says, "it starts with a paean to Mother Earth, the Great Spinning Mother and her wondrous self-regulating processes.  The oceans, the forests and woodlands and all the myriad life-forms they support are like her living breathing skin, forever scuffed and itching, endlessly sending, re-growing, rendering down and swallowed up to be regurgitated in volcanoes and earthquakes, and all the processes essential to the intricate cycles of carbon-based life.  And after billions of years the Carbon Weevil evolved."
---
---
Leave a comment