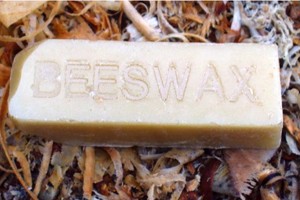 I use various natural finishes for wood turning and general woodwork. Here are a few described –
Beeswax –
A wonderful natural product. I source this from the local monastry as they kep bees, but it can also be easily bought online.
Beeswax makes a great light covering, and also applies a little waterproofing to a piece. It comes readily available in these solid blocks, which makes it ideal for wood turning because it can be applied directly whilst the piece is still on the lathe. Simply by rubbing it against the spinning piece you end up with a layer applied. Then as the piece is spinning, hold a cloth against it and as the wax warms, you will see a natural shine appear. This is also a good product to put on utensils and products used for food as it is non-toxic.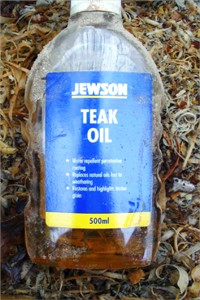 Teak Oil –
Although generally used for teak furniture and decking, I've found that this is quite a robust oil. It has many uses and seems to soak into wood fairly quickly giving it a mild preservative and dispelling water. As the manufacturers of this don't seem to allow you to find out what's in it, it's generally best to be used on outdoor furniture and equipment.
As a setting oil, it's not prone mould but has a slight colour so any piece it's used on will darken.
Walnut Oil –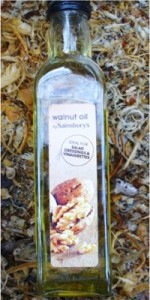 Walnut oil is one of my first choices for all of my tuning as it has wonderful qualities such as, it is food safe, non-toxic (be mindful of nut allergies), pleasant smelling, easy to use and purchase, and colours wood lightly.
Walnut oil because of it's nature doesn't seem to go mouldy (unlike olive oil). So makes an ideal finish for fruit bowls, again adding a water dispersant to the wood.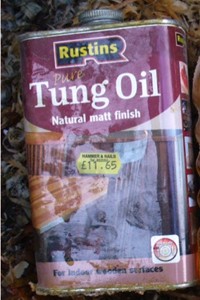 Tung Oil –
A great oil for tool handles as it is hardwearing and absorbs fully into the wood when allowed to dry.   Made from the Tung nut and although expensive, it is a good renewable product. Again it doesn't go mouldy, but must be allowed to soak in fully before use.
With all these finishes the general rule is that they need to be re-applied often. The rule I follow for a new piece is –
Once a day for a week,
Then once a week for a month,
Then once a month for a year,
Then once a year thereafter.
Should you have any questions please feel free to contact me at :
---
---
Leave a comment