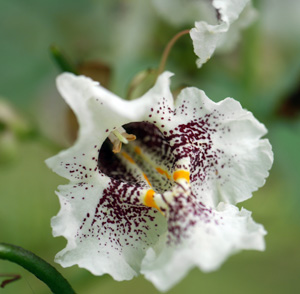 When in Oxford, it is always a pleasure to visit the Oxford Botanic garden but until now I have never made it out to its 'satellite' – the Harcourt Arboretum.  The arboretum is only some six miles away, near the village of Nuneham Courtenay (on the A4074).
The 'core' of the arboretum is the Pinetum (associated with William Gilpin 1762-1843), where mature monkey puzzle trees and giant redwoods can be seen.   The grounds are extensive including native woodland areas and a  considerable area of meadow (together, these would have originally formed an impressive entrance to Nuneham House).  The soil in the arboretum varies from alkaline clay to acidic lower greensand; the latter allows the cultivation of 'lime-hating' plants such as Azaleas, Camellias and Rhododendrons.   Other areas support a diverse collection of plants / shrubs / trees from across the globe e.g. The indian bean tree (Catalpa bignonioides) the flower of which is pictured above,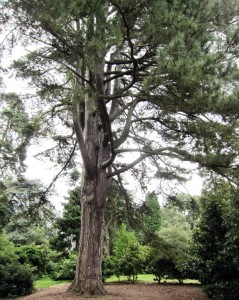 the brown or plum pine (from Australia) Podocarpus elatus, Corsican pine (Pinus nigra laricio) etc.  New species are being added. A recent program of planting included trees that were donated as part of the International Conifer Conservation programme, and seeds from Japanese woody species are being germinated and natured (for planting) with the help of the Bedgebury Pinetum.
The woodland areas have benefitted from the planting of some 14,000 native trees in recent times, and the 18 and 19th century planting of trees such as oak, lime and ash support an understory of bluebells, wood anemones and snowdrops, and coppicing allows for charcoal making.
The meadows are part of the original parkland and are important in terms of their conservation value – being rich in herbaceous species, which in turn support many insects and other invertebrates – which are a food source for various birds.
There are a number of walks / paths through the arboretum – and there is a downloadable map in pdf form (here) of the arboretum and meadow, with the walks and other features of interest clearly marked.   The staff are working hard to attract visitors, organizing various activities.  
For example, this month (August), there are a number of 'events' :
A geo-caching treasure hunt
Lovely leaves (craft activities)
Fabulous flowers
Spendid seeds
Brilliant bark
A production of  'The taming of the Shrew' (Folksy Theatre)
A Bat Walk.
A particular advantage of the arboretum over the Botanic Garden is that you can park easily.
Notes :
Visitor information / Opening times / admission prices :
http://www.harcourt-arboretum.ox.ac.uk/visitor-info
you might wish to take drinks and nibbles with you as there are no refreshments available at the arboretum, and
no dogs are allowed on site except for disability dogs.
The day ticket you buy at Harcourt Arboretum is also valid for entry at the Botanic Garden (on the same day).
---
---
Leave a comment