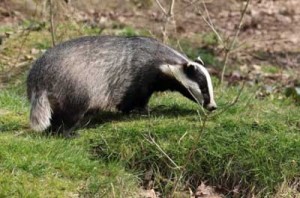 Do badgers spread Bovine Tuberculosis (bTB) and, if so, is it sensible to kill the badgers to reduce losses to dairy farmers?  On these issues,  a great argument has been raging for several years but there are now likely to be a series of skirmishes on the ground in West Wales.
A few years ago the Westminster government decided against a badger cull but now the decision is with the Welsh Assembly, which has taken a different line.  The Welsh Assembly now have authority to cull badgers and have decided to start the process this summer in North Pembrokeshire and small parts of Ceredigion &  Carmarthenshire; an area covering a bit more than 100 square miles.  This is an area where there is a large dairy industry and the incidence of bTB is high.  The process of setting traps is now beginning , though there is fierce opposition from many landowners and animal rights groups.  Traps for badgers are expected to be baited with peanuts and the trapped badgers will then be shot.
Those who oppose the ban say that the rate of incidence of bTB is dropping anyway and that the danger is not predominantly from badgers; maintaining that 88% of bTB infections are said to come from other cattle (for example see this article on cow to cow infection - here ),  and some cases seems to be spread by other mammals as varied as deer, cats, dogs and even alpacas.  Some experts say that a cull like this will be counter-productive as the badgers will simply move to other areas and, if they do indeed carry bTB, then will spread it to new areas.  The same people also suggest that any benefits are short-lived and not cost effective,  aside from the obvious damage done to wildlife.  On the other hand Dr Glossop, the chief veterinary officer for Wales, says that the authorities have spent £100 million on compensation to farmers for bTB cases over the last 10 years and need to do something about it.
The badger cull might better be described as a badger extermination as the Welsh Assembly is not trying to reduce the populations in these areas but to eliminate all badgers.  Unfortunately for this plan, the badgers will probably re-colonise the areas and so the process is not a a simple matter of one-off eradication.  It is partly this effect that makes Professor Donnelly say that the effort cannot be cost effective and she estimates that the cost of repeated culls is 2-3 times as high as the hoped-for benefits to cattle farmers and the Welsh Assembly.
Immunisation may develop fast enough to give a solution all are happy with - it is expected that oral vaccines for badgers will be available by 2014 and injectable vaccines for cattle by 2015.  There is an injectable vaccination for badgers available now.  This would also be cheaper than killing.  The cull that is now starting is expected to take 5 years so it is possible that it will be replaced with an immunisation program.  At the moment there is no sign of any peace or compromise on the matter ; protesters have taken the matter to court, where the Welsh Assembly view has prevailed so far.  However, some campaigners seem intent on fighting further including with direct action even though it would be illegal.   There is a well-organised protest group in Pembrokeshire called "Pembrokeshire against the Cull" whose website is to be found at pembrokeshireagainstthecull.org.uk.   There have also been strong objections to the cull from the Badger Trust and Badger Watch.
What do you think?  Is the badger cull necessary?
---
---
Leave a comment