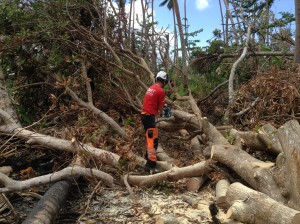 It is not unusual for owners to allow others to use their woodlands; community groups, scouts, guides, local schools and so on all benefit from spending time in woodlands up and down the country.   Less common is for a charity to use a woodland for pre-deployment training. Jon Mackeen, vice-chairman of DART international UK, a charity based near to the woodland in question, takes up the story:
"DART International is a registered UK charity that provides teams of experienced volunteer arborists (tree surgeons) to support worldwide disaster relief operations by removing obstructive trees and enabling other aid and rescue services to operate safely and effectively. The DART concept evolved as a result of  in the Philippines. In the aftermath of that event, it was immediately apparent that local communities and foreign aid agencies were poorly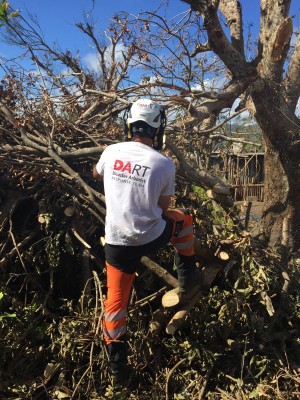 equipped to deal with the devastation caused by fallen trees. In the absence of modern tree clearing machinery and professionals, the distribution of vital emergency aid was held up across the region.
That situation was not unique to the Philippines. Problems caused by fallen trees have been a factor in many natural disasters, including the 2004 Asian tsunami and the Haiti earthquake in 2010.
DART International was set up to respond to this need and our charitable objectives are:
To provide teams of experienced and qualified, rapid response arborists, equipped to support disaster relief operations worldwide and safely treat or remove trees that have become a danger.
To promote a more considered approach to the treatment of fallen and damaged trees, safeguarding those that can be saved for future generations and processing those that cannot in a way that the timber will support the reconstruction effort.
Recently deployed to Vanuatu following Cyclone PAM, our team helped seven schools to reopen, cleared access to remote communities, processed fallen timber for reconstruction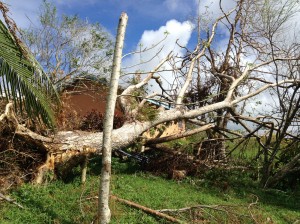 and trained local volunteers in safe handling of chainsaws and tree cutting techniques. They left a lasting legacy on the islands by donating equipment and PPE to those same trained members of the local community.
Our teams are self-sufficient, deploying with sufficient food and equipment to sustain operations for up to two weeks under field conditions. Our pre-deployment training promotes safety awareness, advanced trauma care and the international code of conduct for aid workers.
DART's training recognises the realities, challenges and risks associated to disaster relief work, but more importantly, demonstrates that many of those risks can be avoided or substantially mitigated by raising awareness, carrying out practical training and implementing good safety and security management protocols at every stage of an operation.
As a charity, entirely staffed by volunteers, we rely on donations and sponsorship to support our aims. We continue to establish links with corporate sponsors and collaboration with other aid organisations. In return we offer our sponsors a constructive opportunity to identify their brand with international disaster relief operations and the media attention that invariably surrounds those tragic events."
Further information is available via our website: www.dartinternational.co.uk
Contact details email: info@dartinternational.co.uk Telephone No:
+44 (0)1566 86424
DART JustGiving profile:
---
---
Leave a comment