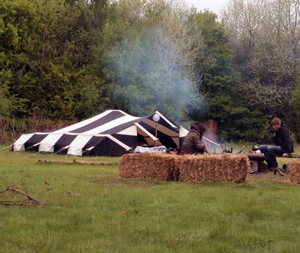 It seems like a very long time ago that I met up with Angus, of www.woodlands.co.uk, to introduce my fledgling idea to him. It must have been around October that I sat in his kitchen and talked through my business plan - to start up a pop up camping initiative, bringing talented and creative people and families to a woodland to explore, create a sense of community, enjoy our beautiful woodland heritage. He must have seen something in the idea, because a couple of weeks later we were touring some potential sites for the first pop up camping event.
Without his belief in the ideals I aspired to, it would not have happened at all. But last weekend I arrived at one of his woodlands in Kent, dodging rain showers, with a car full of plates and jam jars, my sausage dog Poppy and my fingers crossed.
'Feast in the Woods' was the first HoneyWoods event; the first pop up camping weekend bringing together a small group of talented, creative people, to explore the idea that we can create a temporary community in a woodland  – without all the commercial trappings of a large festival or a traditional campsite. We wanted to celebrate food in the outdoors, to feast together as a group, welcoming in families and freelancers, all playing their part.
I cannot express strongly enough my gratitude to the many people that made it happen. From those talented with flavours and ingredients, to families bringing their own vibrancy and life to the group. Volunteers who worked tirelessly to build the compost toilet steps, stand for hours welcoming in guests at the gates, wash up 30 plates several times a day, keep the fire going all weekend, entertain with fire juggling and breathing, playing instruments and teaching each other new songs.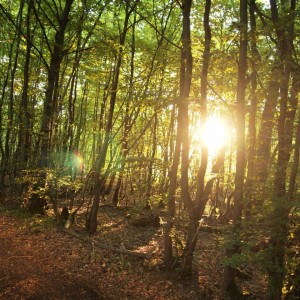 Adults who gently encouraged nervous youngsters to try kayaking or swimming in the lake, taking stunning photographs to help us remember the sunshine. Each person, from 3 year old twins to experts in the fine art of cider making, helped to create the character of the weekend with their own additions to our pop up weekend.
I really had no idea, starting off HoneyWoods, whether the concept would work, or whether people would be interested, or understand what I am trying to do. But last weekend was proof that there is a space in this world for groups of people, any age, any background, coming together for en exploration of the outdoors, creating a pop up community for the weekend, collaborating, learning and supporting each other. What a weekend; all kindly hosted by woodlands.co.uk.
I have so many ideas for expanding the offerings next year, from fire making and safety workshops for children, to activities for the younger kids such as face painting and fairy walks, archery, toy boat making; but there were other parts that I would not change a bit.
The Feast by What the Dickens was simply superb. Their four course meal, including a fantastic pot roast lamb which melted in your mouth, all cooked in the Cider Barn, would have been the talk of the weekend had it not been for the equally impressive knowledge and produce from Laurence of Virtual Orchard. His bar boasted unique and award winning ciders and beers as well as biodynamic wines, and some great UK produced spirits including a very popular gin.  On the Sunday (after an impromptu eggs and bacon on the fire) we watched the Guyrope Gourmet, with the help of his two children, cook us up a very flavoursome paella which disappeared much faster than it took to prepare!
What really made the weekend special for me was the way every single person got involved. Guests ended up sharing food around the fire, singing, interacting with each other in a way that suggested we had known each other for years. We even had someone build new stairs for the compost toilets! The washing up was always done, the fire always looked after, rubbish cleaned away; we had created a community. The woodland itself was so beautiful, I believe everyone was inspired to explore and relax into the weekend.
I said I would steal her quote so here it is… one of the younger guests, Ruby, said it was the best camping holiday she had ever been on. High praise indeed!
It was magical, on Sunday afternoon down by the lake, watching people swimming, encouraging the younger kids to try out the kayaks and looking out for each other in the water. I sat there watching from a distance and it struck me, at that moment, that I had achieved what I set out to do. It was a very special moment!
I have had confirmation that What the Dickens, Guyrope Gourmet and Virtual Orchard are all coming back next year, and best of all woodlands.co.uk are keen too, so we're set for 24th May 2014! If you ever wondered what the potential could be in your woodland - come along to a HoneyWoods event and see for yourself.
HoneyWoods Pop Up Camping   :   www.honeywoodscamping.co.uk
---
---
Leave a comment