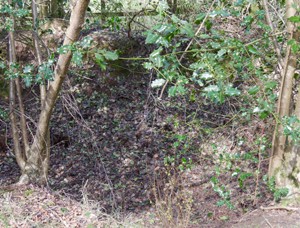 Treasure! I clambered up from the woodland pit with a bottle that to me looked very old, beautiful and probably precious. I'd been curious about what was at the bottom of one of those steep-sided holes in the middle of a woodland. It turned out to be ancient rubbish from many decades ago and my bottle was part of that - no plastic in those days, just some glass bottles and rusty metal. I went back down and found an old enamelled vase with rust-made holes and I knew it would look much better after a spin in the dishwasher - if I could sneak it in without objections from the family!
My newly-discovered bottle was square with lettering on the side so I took it home and washed it revealing the words, "ESS CAMP COFFEE & CHICORY" on one side, and on the other side the text "GLASGOW" and "PATERSONS". So putting these words and "bottle" into the Google images search revealed that what I had found was about 105 years old, and the ESS stood for "essence". A beautiful object maybe, but obviously not unique.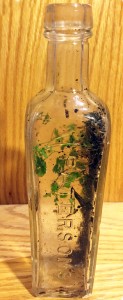 Woodlands are like living museums - they often contain old trees, earthworks and objects of historical interest but they are also dynamic places with growing woodland, exposed to the elements and picked over by walkers and explorers. Many woods are used by metal detecting enthusiasts who should get the owner's permission to forage, but they can then search for buried treasure. But you can find a lot without a metal detector - it's amazing what you can find by just climbing down into old holes. These pits themselves are of historical interest - some will have been dug as saw pits, some created by geological causes, some for drainage and occasionally you will find one created by a bomb that was dropped in WW2. On earlier explorations I did find a small unexploded bomb that was potentially dangerous and was eventually taken away by a bomb disposal team, but that's another story, and it definitely wasn't something we could put on the mantelpiece at home.
Actually my family have grown quite used to seeing the results of my foraging and on one of our shelves we have a small collection including an old milk bottle from the 1970s, some ceramic insulators left by power line contractors, and several skulls from badgers, sheep and foxes. Perhaps bones are nature's equivalent to man's metal and glass remains - objects that last a long time and tell a story. In the case of the bone pictured here you can just make out the teeth marks from a badger who was probably eating the marrow.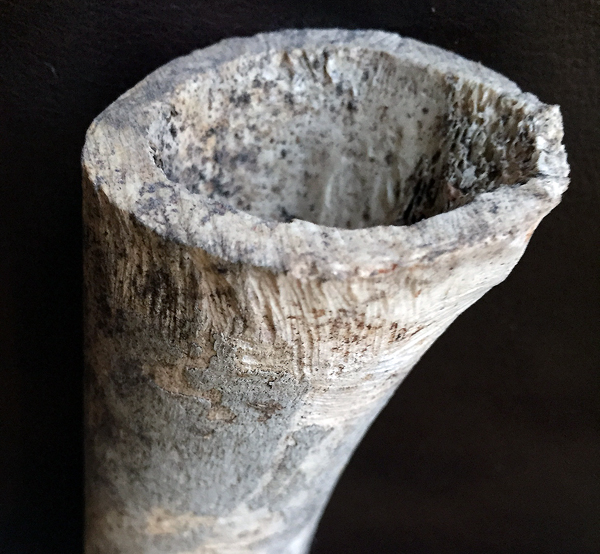 But searching online to find out more about my old coffee and chicory bottle, I found the equivalent on eBay for £5- £6 from various vendors including one called 'found underground'. Not treasure, after all, but a good addition to the collection.
---
---
Leave a comment