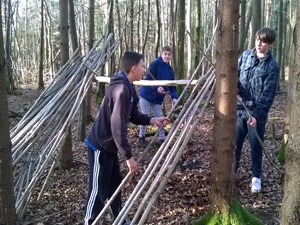 Gary was convicted of burglary but had also been excluded from school for anti-social behaviour so he was given what is called a "referral order" by the Magistrates Court.  The Kent Youth Offending team had to decide what best to do with him so they visited Karen Little at March Wood to find out about her project near Ashford and she showed them her programme of activities for engaging young people.  Karen organises work in the woods, bushcraft, survival games and camp fire cooking.  She's properly trained and insured of course. The team liked what they saw and arranged for Gary to spend a week in the woods with Karen and her project.
At first Gary was full of bravado and inclined to show off, but once he got to know the other young people on the course he started making friends and they swapped stories about what they had done.  Before long, Gary was learning to light a camp fire and started cooking;  and when it got to day three - he was cooking for the whole group.  What he particularly liked was seeing that he was trusted - both with fire and with edge tools.  Part of the course included going back to the city and doing volunteer work, where Gary felt a sense of ownership over that work as it was in "his" area, and he started to feel at home in the woodlands too.  By the end of the week he told Karen that he wanted to come back to the woods - as a volunteer.  This can form part of his referral order.
Much of the funding for the March Wood project comes from a local charity, the Nineveh Trust based in Biddenden.  They have helped Karen to buy equipment and fund the places for young people for a year and they support other similar projects in woodlands.  Many organisations have worked with the March Wood project, including Project Salus, the Salvation Army, Little Acorns Residential Care Home, local 'special schools' and a local autism charity.  Whether it's best for people to join the project for a few intensive days or visit regularly isn't always clear - one group visits for a day a week for a whole academic year.
"People Love the freedom the woods give them", Karen explains. "Vulnerable individuals are under no pressure to behave and they are able to be children again - something many young people have little opportunity for.  Whether they are 8 or 18, running through the woods, climbing trees, making dens and fire allows them to just be themselves, laugh play and learn at a pace that is right for them."
---
---
Leave a comment