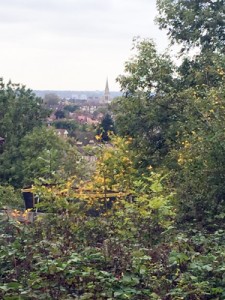 The Royal Forestry Society organises about 100 trips each year to visit woodlands - these are done through its local groups.  The London Division is particularly active with Paul Akers and Angus Morrison in charge - they recently arranged a trip to a small South London woodland of 2 acres, called Unigate Wood and invited the Director of the RFS as well as ordinary members such as me .   Unigate Wood was once part of the site of a Unigate Dairy which closed, leaving the dairy to be replaced by a large residential development .  As part of the planning permission the developer entered into a deal for planning permission called a "section 106 agreement " with Lambeth Council to preserve the woodland for local amenity and it is now jointly managed by Lambeth Council and the Friends of Unigate Wood.    The friends are led by Stephen Lacey who 10 years ago used the wood for walking his dog but couldn't resist building up a group of local volunteers to care for the site.  He has led many litter collections and seven tonnes of flytipping has been put into skips, but the friends have also worked on creating clearings and setting up benches.   From one of these you have a view across London and on a clear day you can even see Wembley stadium, 12 miles away.
Historically the wood probably wasn't built on simply because it formed part of an estate and it later  became a screen for the dairy.  The dairy was supplying the needs of Londoners right through the 19th century and was open until quite recently as a distribution centre , but it wasn't just milk that was supplied - after 1876 mineral water from the spring was sold through the business by owner, Thomas Curtis.   The wood itself is mixed deciduous with plenty of ash and sycamore.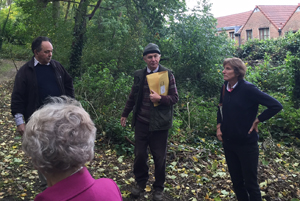 On our visit it was described by Simon Lloyd, the director of the Royal Forestry Society, as "quite a gem".  In practice, the main actual use of the woodland is for walks around its circular path but Unigate Wood is also important in landscape and wildlife terms with dozens of houses surrounding it.
"Our priority at the moment is the entrances to the woodland - improving the steps and updating the signage,"  says chair of the Friends of Unigate Wood, Stephen, "but there is always litter to collect and other improvements that can be made."  Many other members of the Friends committee also join in regular volunteer days but they are keen recruiters - even though I only went to look at it I've been asked to join in a work party.
If you want to see Unigate wood you can get into it from a rather improbable looking entrance in Namba Close at SW16 2QD.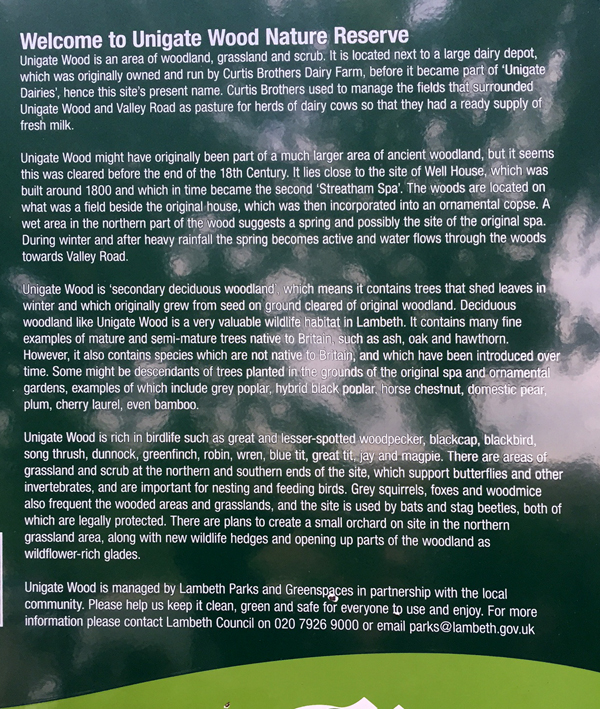 ---
---
Leave a comment