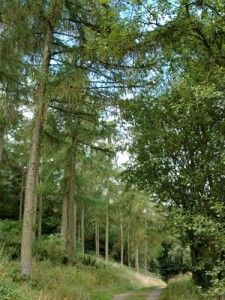 Following the First World War, the UK's woodland coverage was at an all time low – just 5 per cent of total land area. The Acland Committee reported to then Prime Minister, David Lloyd George, that state organisation would be the most effective way to bring about re-afforestation of the UK and plan for the future of British woodland.  
As a result, the Forestry Commission was set up and, throughout the early decades of the twentieth century, it voraciously bought up land.  The aim of the Forestry Commission was to ensure that there would be a strategic reserve of timber, so, as it acquired land, it began to plant - mainly with conifers .
'Low grade' lands (those that were less in demand for agriculture) were pressed into service such as areas around Thetford Chase and Kielder, as were some sandy coastal sites (e.g. Holkham in Norfolk), plus large tracts in Scotland. Coniferous plantations grew up, and formed dark, regular, 'rectangular; blocks of almost uniform colour – as 'natural' as any other monoculture!  Whilst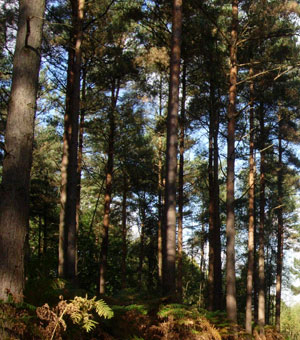 Scots Pine, Yew and Juniper are conifers native to the U.K,  the majority of trees used in coniferous plantations are introduced species – such as Douglas Fir, Corsican Pine, Sitka Spruce and Larch (though Larch is deciduous).
WW2 resulted in another major wartime felling of woodland. Some 30,000 acres were clear felled between 1940 and 1946. During the war, the Commission's forests produced over 50 million cubic feet of wood. The scale of wartime felling on private land was immense with Forestry Commission only contributing 10 per cent of the total felled.  Once the War was over, the Commission bought more land on which to plant, and this strategy continued through the 1950s, 60s and 70s.  Licences for timber felling were introduced.  
Now, we have a new initiative for tree planting with a different focus - not the production of timber per se, the aim is now on offsetting climate change.  One of its most eye-catching proposals of the Committee on Climate Change (CCC) relates to trees, woodlands and forests.  It has recommended that as a country we plant trees, millions of them every year. Trees take up carbon dioxide in photosynthesis, removing this greenhouse gas from the atmosphere, helping to offset global warming. The CCC proposal would see some farmland becoming woodland and forest; and the 're-instatement' of many hedgerows.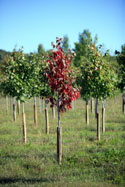 In the 50 years following the end of WW2, hedgerows were removed and larger fields were created to accommodate the machinery associated with intensive farming techniques. Hedgerows were also lost through simple neglect; it has been estimated that a quarter of a million miles of hedgerow were lost.
Interestingly, Scotland has exceeded its tree planting target.   This was set at planting up some 10000 hectares, but last year (2018) some 11,200 hectares were planted up; Scotland leads the U.K in terms of new planting.  Some 40% of this new planting was of native broadleaf trees.  It has been estimated that woodlands and forests in Scotland take up some 9.5 million tonnes of carbon dioxide from the atmosphere each year - which contributes to the fight against climate change.
In addition to tree planting and the creation of woodlands, the Committee on Climate Change has suggested a number of measures to help reduce our net greenhouse emissions to zero :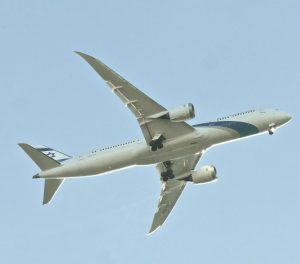 The removal of gas heating for homes and its replacement with electrical systems (coupled with improvements in home insulation)
Changes in diet (eating more fruit and vegetables, less meat).  Cutting down on food waste and not sending such waste to landfill.  Buying locally produced foods where and when possible (thereby reducing the carbon footprint of many foods).
Cutting down on air travel, making greater use of public transport systems - rather than private cars. Environmentally sound alternatives need to be available (and heavily subsidised). This would apply to public transport, certain types of food etc - all of which would help people ease into a more environmentally conscious and healthy lifestyle.
Even a few years ago, such a report would have probably been unthinkable in the eyes of the general public, but the growing realisation that climate change is happening means that the recommendations of the CCC are expected to be broadly adopted by the Government.  Extreme weather events across the globe, coupled with the impact of Sir David Attenborough's programs, speeches by campaigners like Greta Thunberg (the Swedish school girl) and street protests (like Extinction Rebellion) have all contributed in different ways to a shift in public attitude to the problems associated with global warming.
---
---
Leave a comment